What Adam Sandler Alums Like Kevin James, Maya Rudolph Love Most About Making His Comedies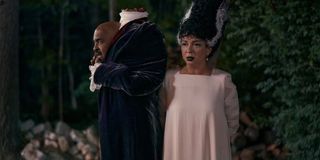 Adam Sandler has made a ton of comedies over the years, and along the way he's worked with so many actors and comedians that there's practically too many to count. But one thing is for sure: many of them, like Kevin James, Maya Rudolph, and others, love coming back and making his movies.
While Adam Sandler's comedies maybe don't get the most praise from critics, his fans love them and keep coming back for more, and that includes many of the comedians he works with too. CinemaBlend's own Jeff McCobb recently interviewed many Adam Sandler alums, including Kevin James, Maya Rudolph, and Tim Meadows, for his latest movie, Hubie Halloween, and asked them what they like most about working with the Sandman. Watch this video to hear what they said:
Say what you will about Adam Sandler's comedies, they sound like a lot of fun to work on. From feeling like you're going back to summer camp to being part of a big party, his actors have nothing but nice things to say. Getting the chance to play a role in one of his comedies sounds like an absolute blast.
Adam Sandler's latest comedy Hubie Halloween has no shortage of comedians he's worked with in the past in the ensemble. On top of the comedians already mentioned, the movie also stars Kenan Thompson, Rob Schneider, Steve Buscemi, Blake Clark, Colin Quinn, and the return of Happy Gilmore's Julie Bowen, among many others.
Hubie Halloween stars Adam Sandler as Hubie Dubois, a Halloween fanatic that consistently cries wolf in the town of Salem, Massachusetts, and is openly mocked by the public. But, when creepy things start happening in the town, it'll be up to Hubie to save the spooky season.
While fans and his co-stars love him, Adam Sandler's comedies have rarely been received warmly by critics. Just to give you a quick snapshot of that, CinemaBlend's own Dirk Libbey in his review of Adam Sandler's Murder Mystery, said, "If you've seen an Adam Sandler movie anytime this century, you know what you're getting, and it's not interesting or funny." But, the awe-inspiring thing about Adam Sandler's comedies is their almost bulletproof nature. Because, despite the poor reviews, they still bring in tons of viewers and rake in loads of cash. As such, Netflix wants to keep the party going and has already renewed several deals with the Saturday Night Live alum, saying "our members can't get enough of him."
So, with happy fans, co-stars, and a streaming company that likes his movies, Adam Sandler likely should just keep doing what he's doing. For more movie news, be sure to stay tuned to CinemaBlend.
Your Daily Blend of Entertainment News
Your Daily Blend of Entertainment News
Thank you for signing up to CinemaBlend. You will receive a verification email shortly.
There was a problem. Please refresh the page and try again.