The Adam Sandler Character Kevin James Wants To See Get A Netflix Spinoff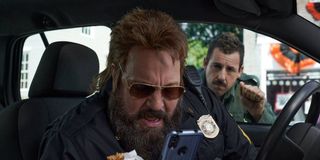 Throughout his career, Adam Sandler has played a wide variety of comedic characters. From Billy Madison to Sandy Wexler to his latest Hubie Dubois in Hubie Halloween, Adam Sandler loves to play eccentric leads. But if you had to choose, which would you want to get a spinoff? Well, according to Kevin James, he'd want it to happen with one of his classic characters.
Kevin James is set to appear in Adam Sandler's new movie Hubie Halloween, alongside a huge cast of other comedic stars that typically join Sandler's movies. CinemaBlend's own Jeff McCob recently spoke with Kevin James and asked him which of Adam Sandler's characters he'd want to see get a spinoff and this is what he had to say:
It's hard to argue with that. Of Adam Sandler's many characters, Bobby Boucher is likely one of his most memorable originals. His fans might also eat that up, excited to see Adam Sandler revisit a favorite from his past. Of course, there's no telling if that'll actually happen.
Bobby Boucher was of course the protagonist in Adam Sandler's The Waterboy, a movie about a water boy that finds out he's got a talent for tackling people. As a result, the football coach recruits him to be their star player, but Bobby Boucher has to keep that secret from his domineering mother. Said mother is played by the always delightful Kathy Bates.
Though critics weren't fond of The Waterboy, it's become one of Adam Sandler's fan favorites over the years. It is definitely one of his iconic movies, and it ranks much higher than a slew of his other more recent offerings. But could a sequel happen?
Kevin James, for his part, has been a frequent collaborator with Adam Sandler starting with I Now Pronounce You Chuck and Larry. Whether working together on one of Adam Sandler's own films or having Kevin James' movie produced under the Happy Madison Productions banner, they've built a strong comedic relationship over the years. And that'll continue with Sandler's ongoing deal with Netflix.
That real-life friendship really shines through with their comedic chemistry on set. Recently, Kevin James spoke about how much he loves working on Adam Sandler's movies because everyone's family on set and it's like "going back to summer camp." Sounds like the set of Hubie Halloween was a fun place.
Kevin James and Adam Sandler teamed up once again on Netflix's Hubie Halloween, about Hubie Dubois, a Halloween fanatic that cries wolf a bit too much in Salem, Massachusetts, which ends up becoming a problem when something truly scary actually happens in the town.
You'll be able to watch both actors in Hubie Halloween when it drops on Netflix on October 7, 2020. Until then, be sure to check out Jeff McCob's interview with Kevin James.
Your Daily Blend of Entertainment News