Billy Madison's Eric Gordon Vs. Happy Gilmore's Shooter McGavin: Which Adam Sandler Villain Is Worse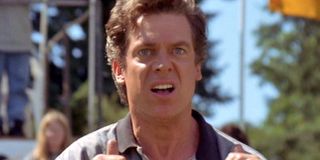 Over the years, Adam Sandler has faced some pretty formidable foes, but few, if any, compare to Eric Gordon in Billy Madison and Shooter McGavin in Happy Gilmore. Seriously, it has been years since we were first introduced to these loathsome characters, and no one has come close to holding a candle to these two. But the question still remains, which villain is worse: the weaselly and conniving Eric Gordon or the hotshot golf with perhaps the most annoying victory taunt Shooter McGavin?
Well, if you want a definitive answer you have come to the right place because I am about to break it down once and for all and decide which Adam Sandler villain sits atop the mountain of douchebags.
Eric Gordon And Shooter McGavin: What's Their Deal?
Before we get into any specifics and all the evil plans these two raging jerks put into place in their respective movies, we first have to take a look at their backstories and how they came across Adam Sandler's two most iconic characters in the first place.
Eric Gordon
Eric Gordon (Bradley Whitford) is the sneaky and manipulative executive vice president of Madison Hotels, and its 61,000 employees, and will stop at nothing, quite literally, to prevent Billy Madison from taking over upon his father's retirement.
Shooter McGavin
Shooter McGavin (Christopher McDonald) is the arrogant and downright awful professional golfer in Happy Gilmore that will do anything and everything in his ability to win a gold jacket and take out Happy once and for all, and plans on doing so at the same time.
Who's Worse: Shooter McGavin
The first round goes to Shooter McGavin, but hear me out before your feathers get all ruffled. When we first meet Eric, he doesn't seem all too unreasonable (just a little hungry after missing out on the Triscuits). The first time we meet Shooter, however, he's ordering Virginia Venit to bring him a Pepsi without even a hello or thank you.
Their Reasons For Hating Billy/Happy
Eric Gordon and Shooter McGavin both have more than enough reasons to hate their respective Adam Sandler character, but which villain has the pettiest and most unreasonable reason for detesting their foe so damn much?
Eric Gordon
Eric's hatred towards Billy Madison is fairly simple: he wants the heir to Madison Hotels out of the picture so he can take over and run things on his own. And while it seems like it's nothing more than business in the beginning, Eric's plan quickly unfolds into one of blackmail, madness, and a secretary in a coma.
Shooter McGavin
Shooter McGavin hates Happy Gilmore because of the failed hockey player's failure to understand the rules and sophistication of the game of golf. But a simple competition between the seasoned pro and rising star with an unorthodox swing becomes much more personal than anyone expects and Shooter's hatred for Happy goes beyond the golf course and even the real world (that crazy dream sequence, anyone?).
Who's Worse: Shooter McGavin
This round goes to Shooter McGavin. Sure, Eric Gordon doesn't like Billy Madison, but he has a good reason for it. Shooter, on the other hand, is just a jerk for the sake of being a jerk.
Whose Despicable Attempt To Thwart Adam Sandler Was Worse
Throughout Billy Madison and Happy Gilmore, Eric Gordon and Shooter McGavin both fall down dark paths in their respective fights against Adam Sandler's characters, with one involving the blackmailing of a school official and the other involving an attempt to get his opponent kicked off the tour by causing a stir with a daytime game show legend.
Eric Gordon
As Billy Madison begins blowing through grades at a breakneck pace, Eric Gordon comes in and tries to nip his problem in the bud by digging up dirt on Principal Max Anderson, during which he discovers the school official's dark past as a professional wrestler who killed someone in the ring and may or may not have had time to earn all of his education certificates during such a short period of time. And while the plan ultimately fails and the "Revolting Blob" learns to accept his past, it's still a despicable, good-for-nothing plan.
Shooter McGavin
Shooter McGavin, on the other hand, pays one of his biggest fans, Donald, to heckle Happy Gilmore during a pro-am where he is paired with Bob Barker of The Price is Right. When Happy begins playing like absolute crap on account of letting Donald get in his head, Barker snaps and the two exchange blows, with the game show host getting the final word as Happy lies unconscious on the fairway.
Who's Worse: Eric Gordon
This round has to go to Eric Gordon because he not only spent way too time much digging up old wrestling magazines (which sounds pretty fun, by the way), but he blackmailed a school official (which is considered a crime in most, if not all, states). All Shooter McGavin did was pay some goon to yell at Happy Gilmore and then not go with Donald to Red Lobster after all that trouble.
Their Most Insane Way Of Trying To Hurt Billy/Happy
After all of their plans fail (in spectacular fashion), Eric Gordon and Shooter McGavin bring a little violence into the picture as they try to take out their foe once and for all, no matter what it means for their character afterward.
Eric Gordon
During the academic decathlon at the end of Billy Madison, Eric Gordon gets tripped up on a business ethics question and decides to hell with it and pulls out a revolver from under his coat and first attempts to shoot Billy before turning the gun on Veronica Vaughn. Luckily, both attempts are thwarted and it's Eric who ends up getting shot.
Shooter McGavin
When he knows he can't beat Happy Gilmore, Shooter McGavin turns to his old non-friend Donald and has him run Happy over in the fourth and final round of the tournament nearly costing his opponent the match and his grandmother's house, which Shooter outbid Happy on earlier in the movie.
Who's Worse: Eric Gordon
As terrible as it is to pay someone to run over your rival, Eric Gordon brought a loaded gun into a high school auditorium full of students and faculty and attempted to kill not one, but two people all so he could run a hotel company. The dude is a straight up lunatic and should be behind bars.
Their Most Annoying Characteristic
We're all tied up going into the fourth and final round to decide which Adam Sandler villain is worse. We've gone over each character's actions throughout their respective movies, and the only way to break the tie is to decide who has the more annoying characteristic.
Eric Gordon
Eric Gordon is as villainous as he is annoying, and there is nothing that gets a rise out everyone more than that terrible, god awful, weaselly laugh. It's the cherry on the top of the douche cake that is Eric Gordon.
Shooter McGavin
Shooter McGavin, on the other hand, has his trademark finger guns, because, well, his name is Shooter McGavin after all. That obnoxious little move is just the absolute worst thing an aging professional golfer can do to showcase his unmatched arrogance.
Who's Worse: Eric Gordon
As much as I hate Shooter McGavin's finger guns and that dumb little look he makes while doing them, this round, and the whole match has to go Eric Gordon because the laugh essentially sums up who he is as a person and makes him out to be the sneaky little twerp we've been hating for 25 years now.
Do you agree with the result of this head-to-head competition of the most annoying villains in an Adam Sandler movie? Let me know in the comments and don't forget to complete the poll down below.
This poll is no longer available.
Philip grew up in Louisiana (not New Orleans) before moving to St. Louis after graduating from Louisiana State University-Shreveport. When he's not writing about movies or television, Philip can be found being chased by his three kids, telling his dogs to stop yelling at the mailman, or yelling about professional wrestling to his wife. If the stars properly align, he will talk about For Love Of The Game being the best baseball movie of all time.
Your Daily Blend of Entertainment News
Thank you for signing up to CinemaBlend. You will receive a verification email shortly.
There was a problem. Please refresh the page and try again.