Wow, James Gunn Rejoined Guardians Of The Galaxy 3 At The Weirdest Time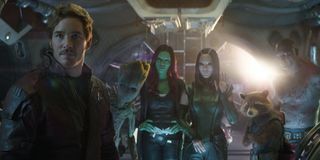 In the summer of 2018, smack dab in the middle of that year's San Diego Comic-Con, it was announced that filmmaker James Gunn had been fired from Guardians of the Galaxy Vol. 3 after offensive joke tweets he'd posted years earlier resurfaced, and Disney was not having it. Eight months later, the public learned that Gunn had been rehired onto the Guardians threequel, but it turns out that Gunn learned he'd be rejoining the Marvel Cinematic Universe right after he'd signed on with its chief competitor.
After several years of creative talent cycling through Suicide Squad 2, now officially known as The Suicide Squad, it was reported in October 2018 that Warner Bros and DC were eyeing James Gunn to tackle the project, and his involvement was officially confirmed the following January. Well, it didn't take long at all afterwards for Marvel Studios to court Gunn back to Guardians of the Galaxy Vol. 3, with the writer/director recently recalling:
To be clear on the timeline, it wasn't announced to the public until March 2019 that James Gunn was returning to Guardians of the Galaxy Vol. 3, but thanks to Gunn's new comments, it sounds like he learned Marvel Studios wanted him back around January 2019, if not earlier. But specific timing aside, can you imagine what was going through Gunn's mind then? Just one day after he hops over to DC to helm The Suicide Squad, Disney chairman Alan Horn lets him know the company wants him back for the next Guardians movie. That must have been a mental whirlwind!
James Gunn continued in his interview with Empire that after Alan Horn contacted him, he got in touch with Marvel Studios president Kevin Feige to let him know about what he was collaborating with DC next. Feige asked if Gunn was working on Superman, and when Gunn stated it was The Suicide Squad, Feige simply requested that he just "make a good movie." Gunn also mentioned that he's shared a lot of secrets about The Suicide Squad with Feige, but Feige has been "pretty trustworthy with his NDA."
In the months between James Gunn's firing and subsequent rehiring on Guardians of the Galaxy Vol. 3, there were a handful of rumors circulating about who might replace him in the director's chair. Now though, he'll get to complete his vision for the MCU superhero team, which also makes the first director to oversee an MCU trilogy from start to finish. Peyton Reed will also join that exclusive lineup, as he's returning for Ant-Man 3.
At one point, the plan was to release Guardians of the Galaxy Vol. 3 in 2020, but due Marvel reversing course with James Gunn months later, The Suicide Squad took priority for him, with principal photography unfolding from September 2019 to February 2020. It's still unclear when Guardians of the Galaxy Vol. 3 will begin shooting, and it doesn't have an official release date yet. Of course, even if the third Guardians movie had kept its 2020 slot, given the current health crisis, you can be sure that it still would have eventually been delayed, just like what's happened with Black Widow, Eternals and more.
As for what we can expect from Guardians of the Galaxy Vol. 3, no specific plot details have been released yet, although considering that Avengers: Endgame concluded with Peter Quill searching for the time-displaced, younger Gamora, one would imagine that'll factor into the story. James Gunn also said back in April that there are big things in store for Rocket Raccoon in the threequel.
Keep checking back with CinemaBlend for more updates on how Guardians of the Galaxy Vol. 3 is coming along, although you won't have to wait until then to see that team again, as Vin Diesel said some, if not all of the Guardians will appear in Thor: Love and Thunder. In the meantime, The Suicide Squad charges into theaters on August 6, 2021.
Connoisseur of Marvel, DC, Star Wars, John Wick, MonsterVerse and Doctor Who lore. He's aware he looks like Harry Potter and Clark Kent.
Your Daily Blend of Entertainment News
Thank you for signing up to CinemaBlend. You will receive a verification email shortly.
There was a problem. Please refresh the page and try again.