Michael Bay Was Told The Rock's Budget Was Being Cut, Then Sean Connery Stepped In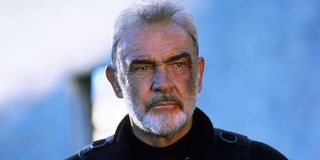 In the week since legendary actor Sean Connery passed away, the internet has been peppered with tributes and classic stories from the Scotsman's many co-stars and admirers. We've touched on many of them, but I wanted to address one more that I just read. It's about Connery's time working on The Rock and specifically, an interaction that happened between the Oscar winner (for The Untouchables) and Disney executives who wanted to cut costs.
The story was told by Jerry Bruckheimer who shared a few musings and memories with The Hollywood Reporter last week. Apparently, during production on The Rock, the film fell behind on its schedule by a few days, and Disney executives were getting a little concerned, as the film was being produced by Buena Vista, a subsidiary of the Mouse House. They allegedly stopped by the set to figure out what was going on and tell the key players including director Michael Bay (who recently paid tribute to Connery) they were cutting the budget. Or at least that was the plan until Sean Connery "laid into them." Here's a portion of the quote from The Rock's producer Jerry Bruckheimer…
Of course everyone loves a good story about Sean Connery getting ornery, especially with a random executive, but the thing I really love about this is Jerry Bruckheimer's involvement. For those of you who don't know, Jerry Bruckheimer is a behind the scenes legend. His profile has grown in the years since, but prior to The Rock, he had already produced Top Gun, Beverly Hills Cop, Days Of Thunder and Bad Boys, among others. Amongst almost anyone else, he would have been the one expected to step up and deal with studio executives, but Sean Connery wasn't any ordinary actor. He always spoke his mind and had experience and dedication to the craft to back it up.
That's another thing many people miss about Sean Connery. There are a lot of actors, especially as they get more famous, that aren't always the most dedicated and don't always have the best on-set behavior. By all accounts when Connery worked on a movie, he was all in on the movie. He would get heavily involved in the writing process. He would show up early to discuss and map out the scene being filmed. If he was going to make a movie, he wanted to put the time and energy into making it the best it could be.
And The Rock is, of course, awesome. It might not have the critical acclaim of some of his other amazing movies (see Murder On The Orient Express or The Untouchables to name a few), but for what it is, it's so much fun and so well done. Its runtime flies by. There are so many memorable lines, and the chemistry with Nic Cage is delightful.
So, here's to Sean Connery… for fighting to keep The Rock the way it was, and for all the other battles he picked during his career that we don't know about. He had a spectacular run, and we'll all be watching his movies with smiles for years to come, whether they involve spying or in this case, stolen Hummers.
Enthusiastic about Clue, case-of-the-week mysteries, the NBA and cookies at Disney World. Less enthusiastic about the pricing structure of cable, loud noises and Tuesdays.
Your Daily Blend of Entertainment News
Thank you for signing up to CinemaBlend. You will receive a verification email shortly.
There was a problem. Please refresh the page and try again.