Fifty Shades' Jamie Dornan Recalls One Brutal Review Of Christian Grey That's Stuck With Him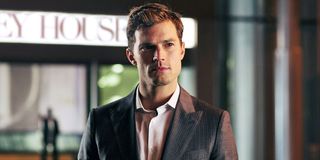 Fifty Shades of Grey has a very dedicated fanbase, one that has followed Christian Grey and Anastasia Steele from the page to the big screen. However, despite the love from the fans, the critics have not been as kind to the Fifty Shades franchise, and lead Jamie Dornan recently revealed one particularly brutal review that has stuck with him over the years.
The critics haven't always been super kind to Fifty Shades of Grey, Fifty Shades Darker or Fifty Shades Freed. However, in general I'd say this has more to do with the plot of the films than the acting from Jamie Dornan and Dakota Johnson, who have both gone on to more critically acclaimed things. Regardless, in a recent interview, Jamie Dornan revealed one particularly brutal review was all about his performance, though he says he doesn't "entirely disagree."
The above comments to Variety came as part of his press for Wild Mountain Thyme but I went ahead and did a little sleuthing and believe I found the review in question, which comes from The Diva Review, who did literally compare Christian Grey to oatmeal when the first flick came out.
I personally thought the comment was going to be more of the "stodgy" or "mushy" variety when oatmeal was compared to Christian Grey as a character, but I can certainly see why Jamie Dornan found it to be a memorable one-liner. Brutal.
These days, Jamie Dornan is out and about working on a lot of indie films. While Fifty Shades has opened a lot of doors for the actor to become a household name and take paths that are more akin to what he really wants to be doing and less akin to being shirtless eye candy, Dornan still understands the franchise was the path to help get him there. He's respectful about his time with Dakota Johnson on the big screen yet says he is looking forward to more "diverse and interesting work."
Touching again on the critics, Jamie Dornan also just talked about what it was like to be Christian Grey in the box office monsters that were the Fifty Shades films. He knew going into Fifty Shades of Grey exactly what he was in for, but says that it doesn't make the feelings any less "strange."
Though Jamie Dornan says he can't imagine playing a character for "multiple, multiple films" again, I personally wouldn't fully close the door to that idea. Robert Pattinson, for example, took a similar path in the indie world after his big role in Twilight and ultimately did join another big budget movie with Matt Reeves' The Batman, a movie expected to spawn sequels. So, never say never.
Meanwhile, you can catch Jamie Dornan back in a romantic role opposite Emily Blunt when Wild Mountain Thyme premieres on December 11. Or keep your eyes peeled for the latest from E.L. James' mind with The Mister movie updates.
Amazing Race & Top Chef superfan with a pinch of Disney fairy dust thrown in. If you've created a rom-com I've probably watched it.
Your Daily Blend of Entertainment News
Thank you for signing up to CinemaBlend. You will receive a verification email shortly.
There was a problem. Please refresh the page and try again.