Of Course, Jamie Dornan And Zac Efron Are On A List Of Most NSFW Sex Scenes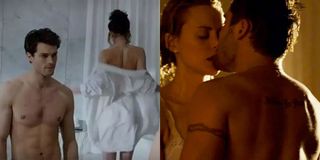 If I had to make a list of actors who were shirtless most often in movies, Jamie Dornan and Zac Efron would come to mind very early on. When it comes to NSFW sex scenes, they absolutely make that list too, though there are some other surprising Hollywood actors and actresses who have also landed on a list of most "severe" aka racy sex scenes in movies. In fact, the number one slot actually goes to Julianne Moore, but there's a whole Top 10 list to peruse through.
So, how does one come up with a list of "severe" sex scenes in movies? A survey conducted by Online Gambling looked into a number of parental advisory warnings for sex and nudity compiled by IMDB and triangulated those with movies that were marked "most severe" to find some of the raciest scenes in movies. The list of actors and actresses came from figuring out which celebrities were in the most movies on the list that fit within the "severe" definition. As it turns out, some of the people who made the list make total sense and some are Seth Rogen.
Really though, if you look at the full list, you can zoom in on Jamie Dornan and Dakota Johnson. Both have three movies on the list, which obviously makes so much sense given both of them are the leads in the notably raunchy Fifty Shades of Grey, Fifty Shades Darker and Fifty Shades Freed. No one's out there accusing The Peanut Butter Falcon of being gratuitous, though it's worth pointing out that Jamie Dornan's Endings, Beginnings has a fair amount of sex in it.
Julianne Moore topped the list thanks to roles like The Kids Are Alright, in which she's (spoilers) in a same-sex relationship with Annette Bening's character but also does the deed with Mark Ruffalo's character. She's also in The End of the Affair and three more movies that landed her right at the top of this NSFW list.
Kate Winslet gets naked a lot in The Reader and other movies, and the outlet also declares Ewan McGregor's raunchiest movie to be Velvet Goldmine, in case you were wanting to check out what pushed him over the edge and helped him to land in one of those two 4-movie slots.
All the movies are not listed in relation to the actors, so they leave some gaps, particularly thanks to my cinematic memory. I know Zac Efron, for example, has a lengthy and memorable sex scene with Taylor Schilling in The Lucky One that might have helped him achieve such great heights on this list. And Seth Rogen's NSFW sex scenes may include the famous condom-less sex (opens in new tab) scene in Knocked Up and probably Zack and Miri Make A Porno--at least that's my best guess.
The study also looked into genres, determining that dramas actually more often feature this sort of "severe" sex scene, even more so than comedies (makes sense) or romances (more surprising) might. Thirty-three of the drama movies studied had high ratings in regards to sex and nudity, whereas 12 comedies and 14 romances made the list. Low on the sex and nudity totem pole were horror and fantasy movies, with only one fantasy flick making the list and two horror movies total fitting the criteria.
At the end of the day, sex and nudity goes in waves in films and on TV. "Severe" nudity always exists of course, and we'll have to wait and see a few years down the line if any new names populate this list.
Reality TV fan with a pinch of Disney fairy dust thrown in. Theme park junkie. If you've created a rom-com I've probably watched it.
Your Daily Blend of Entertainment News
Thank you for signing up to CinemaBlend. You will receive a verification email shortly.
There was a problem. Please refresh the page and try again.