How Michael Bay Ended Up Contributing To Chunks Of Songbird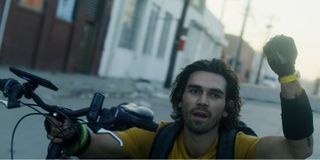 When a big name like Michael Bay signs on as a producer for a film like Songbird, that decision is typically a solid business move. Having a big name like the man behind action blockbusters like the Transformers franchise is a big get for a project like director Adam Mason's new pandemic thriller, as that brand recognition should help bring audiences to the table. However, that's not all that Bay brought to the picture when it came to putting together Songbird, as the big ticket director actually ended up contributing his talents to chunks of the film, as well as providing advice pertaining to the filmmaking process across the board.
In the course of researching for my interview on behalf of Songbird's release, I'd discovered that Michael Bay's involvement with the film reached a little further than I'd expected. When the time came to discuss the film with co-writer/director Adam Mason for CinemaBlend, I needed to ask him more about the work that Bay had done with the film, and he gave me a lot of insight into that particular aspect. Mason began his story with just how, and why, Michael Bay became a fixture on set:
Michael Bay's Songbird experience saw the director of huge scale films like Six Underground shooting what's known as second unit photography. With the second unit on a major motion picture, a lot of the action and establishing shots that you see in-between the really personal stuff is produced there. Knowing that, it's an obvious hand/glove fit to see Bay taking the more kinetic moments of Songbird's overarching story by the visual horns. With this collaboration with Adam Mason firmly in play, the overall experience of the movie helped the 17 day shoot move like lightning. Mason confirmed Michael Bay's contributions to Songbird thusly:
Bikes? Action? Guys with guns? Yeah, that's definitely the Michael Bay experience; and that's not all he brought to Songbird's production. Once Bay joined the project, some key collaborators came aboard as well. Cinematographer Jacques Jouffret was one of the most important members of the crew, as his gritty and intimate style used in films like Mile 22 and The Purge franchise was a perfect lens to examine Songbird's close to reality model. And in terms of the musical score for the film, Michael Bay was able to bring in Mission: Impossible – Fallout composer and Hans Zimmer disciple Lorne Balfe to handle the duties of giving this world its melodic voice.
More important than the resources and the skills that Michael Bay brought to Songbird were the lessons that Adam Mason would learn from watching him work. With Bay involved straight through to the post-production phases, Mason really did get the Michael Bay Film School experience, from stem to stern. And one learning experience the director got was as simple as the following:
There are a lot of jokes about how Michael Bay's filmmaking style effects the finished products he attaches his name to. You don't get asked to lampoon yourself in a Verizon commercial for merely being a brand name director, otherwise Christopher Nolan would have done at least two spots himself. But with that baggage comes the potential to overshadow the actual worksmanship that Bay puts into his projects. Which is a really good set of skills to have when a director like Adam Mason is looking to learn more about action filmmaking:
Songbird is a movie that was literally born out of the 2020 moment, whether you approve of its finished product or not. And for what it's worth, the finished product is absolutely a slick experience that feels like it was filmed before the pandemic shut down movie production; as opposed to the reality of the film being that very first to be filmed under such circumstances. Between Adam Mason's inventive ways of shooting personal scenes, and Michael Bay's eye for action and pacing, Songbird is all the richer for those two disciplines meshing so effectively. You can see the results for yourself, as the film debuts through Video on Demand this Friday.
CinemaBlend's James Bond (expert). Also versed in Large Scale Aggressors, time travel, and Guillermo del Toro. He fights for The User.
Your Daily Blend of Entertainment News
Thank you for signing up to CinemaBlend. You will receive a verification email shortly.
There was a problem. Please refresh the page and try again.