Is It Worth Going To Walt Disney World During A Pandemic? We Investigate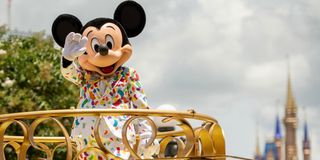 Disney World has long been touted as the Happiest Place on Earth and even during a pandemic, the House of Mouse is trying to keep up the magic. This has meant the addition of a lot of new safety precautions and changes in theme parks like the Magic Kingdom and Epcot. Following the addition of those changes, Disney World is once again open and some people in Florida and elsewhere have traversed down to experience Dole Whip, Splash Mountain and other memorable attractions in 2020.
Prior to pandemic rates really ramping up again, my husband and I were among those who decided to check out the Magic Kingdom, Epcot, Animal Kingdom and Hollywood Studios parks at Disney World to hopefully give you some insight on what's changed and what hasn't and help you to make an informed decision about whether or not to make your own future plans. There are pros and cons galore, so grab your Mickey ears and we'll talk them out.
Getting To The Magic Kingdom And Other Disney Parks Early
Are you normally a person who is up and working out at a gym before park hours even start at Disney World? Are you a family who likes to make a breakfast reservation and then hop on a ride at Magic Kingdom right away? Getting to the parks early is one of the things that has changed as Walt Disney World has swapped around its hours in the parks.
For the holidays, Disney has extended its hours a little bit, but if you shift forward into 2021 and January hours, a lot of the parks will not be opening until 11 a.m. or 12 p.m. ET again. So, if you are an early riser, you will probably be looking at a different plan than you might normally go for at Disney World.
Pros: Sleeping in on a Disney vacation has literally never been easier. Getting to the parks on the early side is still an option--it's just later in the day than it used to be, which honestly means a much more relaxed morning. More parkgoers are on an even playing field, as ride wait times don't shift as significantly throughout the day. One major pro to getting to the park early in 2020, in my opinion, was simply that Disney is letting people wander through the parks so that people remained socially distant even before the attractions officially opened. This was exceptionally fun and way better than having to huddle up in a mass and push forward toward an attraction right as the parks were opening. I really hope this is the wave of the future for Walt Disney World. Sure, I missed the magic of the birds taking flight as Animal Kingdom opened, but wandering around was so much nicer and made it feel as if I was on my own schedule and not Disney's.
Cons: Getting to the parks early used to mean an hour or so of riding multiple attractions before the lines really started filling up. Or, if we are talking about busy rides like Seven Dwarfs Mine Train or Avatar: Flight of the Passage, you'd at least have a lower wait if you hopped in line first thing. Given social distancing and fewer people being allowed on rides at a time, plus the fact the parks are often opening later in the day, the ride lines do fill up quickly and stay filled.
Character Experiences: Disney Princesses, Mickey, Pooh And More
Character experiences are one of the major park attractions that have drastically changed in the era of social distancing. The good news? There are still plenty of ways for kids to interact with characters, but if you are regular Disney parkgoers, the changes are going to be noticeable for you and your kids. Here's a look at what to expect as certain areas that used to feature characters are shut down and other changes have been made to keep people from crowding together.
Cons: In this case, I'd like to talk about the cons first because they are glaring. First and foremost, those intimate magical moments with your kids and a character just aren't there due to Disney doing everything it can to social distance, which means most character experiences have been shut down. It's a little gut-wrenching to walk past the princess tent over by the Aladdin ride in the Magic Kingdom and see it sitting empty, waiting for magic again. The other obvious con is that with fewer character experiences and attractions outside of the rides, ride lines are lengthier. There's simply less to do.
Pros: Still, the character experiences that do happen are well thought out and in some ways I felt like what is happening now has been a nice change of pace, particularly for those who only casually care about character experiences. For example, instead of taking close-contact photos, Pooh interacted with young guests from a distant location on a lawn at Epcot while I was there. Other characters floated by on parade floats at unexpected intervals rather than at scheduled times in various parks. This led to less congestion and made the parks a lot easier to navigate. As someone who doesn't love a long parade (I know we don't all agree on this), I wish that component would stay. Finally, character dining has stopped in many locations; however, Chef Mickey's did recently add character dining back, so there's hope character dining will continue to expand in the future.
Walt Disney World Transportation: Disney Public Transportation Vs. You Personal Car
Disney has plenty of options for transportation, both in terms of people being able to drive themselves to the parks and park for FREE right now if they are staying at a Disney resort. In your car your family gets a bit of a reprieve from the masks, while masks are required when you are taking Disney public transportation, just like in the parks. Social distancing is also a big deal. On the boats, circles were marked off on the ground to show people where to stand. Buses are no longer as crowded as they have been in the past either. Lots of accommodations are being made to make sure people can move around safely.
Because transport is going to be more dependent on what you have available, so in this case I didn't go deep into the pros and cons, but simply focused on the various options.
Buses, Boats And More: There are still plenty of ways to transport yourself around Disney parks, including buses, boats, ride shares, the Skyliner and the famous Monorail. All of that transportation is still in use during this time, though there are some changes. Capacity has been reduced on buses as one example and when I rode, only one party was allowed in a Skyliner gondola at a time, for another example. If you are using the Disney transportation from park to park, due to social distancing measures there can be waits, though the longest my husband and I waited was for a boat, which is a typical Disney World experience, even pre-pandemic. The Magic Kingdom railroad to get around that park has been shut down through 2020 as the Tron rollercoaster continues construction, as well.
Car: If you have a car on property, Disney is also currently offering free parking at the parks if you are staying in a Walt Disney World resort. My husband and I took advantage of both types of transportation and the car route was super easy. We just had to show we had a park reservation at the gate (masks on here!) when we pulled up and we waltzed right in with our vehicle, using our Magic Bands for entry. The process was swift, though it did mean a walk from our parking space into each park. So, if you like a quick and convenient drop off near the park entrance, the regular transportation offered by the parks is still hard to beat.
How Ride Lines Work With Social Distancing At Walt Disney World
Ride lines are always long at Disney World and if you thought limited capacity would rectify this, well, you'd be wrong. Currently, parks like The Magic Kingdom, Animal Kingdom, Epcot and Hollywood Studios are only at 35% capacity; however, there are a few reasons that line length is still long. The first is, there are simply fewer activities outside of rides available than usual. The second issue is that a significant number of rides cannot fill up to capacity as social distancing is in place. However, Disney has taken many measures to keep lines moving and also keep people apart. For more detailed specifics, here's CinemaBlend's full guide for how ride lines work right now.
Pros: Honestly, in general the way Disney has worked magic to keep people separated in lines is pretty amazing. Spaces are taped off in ride lines in order to make sure that people won't be breathing on each other, even if there is a halt in movement and even with a queue format that twists and turns. Where space is tight, such as in the Thunder Mountain Railroad queue, plastic barriers have been put up to separate people in line. Ride lines extend outside and through other additional attraction spaces to keep people both moving and separated as well.
Cons: Unlike Universal Studios, there are no virtual cues being offered. Currently due to the lines needing to be much longer and socially distanced than usual, there are no Fastpasses either. One other issue did crop up with the marked spaces on the ground. Sometimes people were not thoughtful about stopping every six feet on the markers or were part of a larger party and it just wasn't possible. When that happened, the fix was fairly easy, though, and my husband and I just hung back an extra space.
Disney Dining: Character Dining, Epcot, And Sitdown Dining During 2020
Disney Dining is one of the most delightful parts of the Walt Disney World experience and Disney Dining is still in full force at both Downtown Disney and Disney World parks and resort locations. Reservations are still required at some nicer restaurants and Walt Disney World cast members at the restaurants have on both masks and shields if you choose those options. Outdoor dining was available where there has always been outdoor seating, though some restaurants have always only had indoor seating available.
Counter service is alive and thriving, as well, and Disney has put a lot of effort into its app when it comes to ordering food in advance. While before you might wait in a lengthy line, the My Disney Experience app gives families options to just input a food order from a socially distant place and then pick it up where the "Mobile Order Pickup Sign" is located at each food joint. More on that here.
To touch on Epcot specifically, that park also still had food and drinks "around the world" available and had also added additional tables so that people could physically stop with a food or drink item and relax in a socially distant manner. You cannot eat or drink while walking, which does hinder some of the delights of Epcot somewhat, but by adjusting some behavior and staying stationary, Epcot is still 80% as exciting as it normally is. I did particularly enjoy the fact there were more places for people to physically put food on tables so they didn't have to hold a drink and food while walking as well.
Pros: Since parks are at limited capacity, it was fairly easy to make reservations at some of our favorite spots in advance of our stay. We were able to sit outside on the balcony at Jose Andres' restaurant Jaleo at Disney Springs with a reservation and at the 3 Bridges Bar and Grill at Coronado Springs Resort, which was all outdoor seating and did not require a reservation. There also happened to be great weather and ample outdoor seating at BaseLine Taphouse, if you're looking to imbibe in Hollywood Studios. We didn't use the mobile app ordering because there weren't really lines at the counter service places we grabbed food, but having that option was a nice touch. We also really liked having additional places to stop and eat at Epcot, as listed prior.
Cons: First and foremost, your mileage with dining may vary with reservations if you aren't wanting to sit inside. Some restaurants we have enjoyed in the past are also closed right now as the parks are not at anywhere near full capacity. Some of these may be among your favorites. The Crystal Palace at Magic Kingdom, for example, was closed when we visited, though that eatery recently reopened. Of course, you can't walk around and eat or drink. This means you can't eat and drink while waiting in line for a ride--since Disney is trying to keep people as socially distant and as fully masked as possible in ride lines. It also means you can't drink your Starbucks while wandering into shops or grab a beer while walking around the Countries of the World in Epcot. Some minor adjustments to your usual Disney behavior are required, but it's worth it.
Getting To The Parks Later: Tower of Terror, Pandora And More
Earlier I mentioned how getting to the parks earlier used to be a great way to gain some more bang for your buck. That used to also be true of nighttime hours at the parks. If you were there super late you might be able to hop on some rides much more quickly, though it's worth pointing out that in-demand rides have always had long lines from start of day to finish.
Getting into the holiday season, Disney has extended hours, so choosing to pop into the parks in the middle of the day or later can be a relaxing option.
Pros: Given the limited hours, a lot of people plan to get to the parks early and spend the morning there are sometimes cutting out and doing other things as the day wears on. This meant that at some parks, ride lines tapered off the later we were there. (Though Pandora and rides including Tower of Terror, etc. are still popular options at night when the hours are available in those parks. Epcot is also still popular at night.) One con of getting to the parks early was that social distancing was a little harder as people waited in winding lines for park admittance. Showing up later meant there were none of those issues. Plus, parkgoers get to experience fun nighttime perks like glow-in-the-dark drinks and settings. Some areas, such as the lit up areas in Pandora, are simply way cooler later in the day than earlier.
Cons: Obviously, with limited capacity, the parks also aren't open as late as they have been during past summers or previous holidays. So, even if you plan for a late start, factor in that Animal Kingdom park closes a lot of nights at 5 p.m. rather than later in the evening. Some recalculation and planning will need to be involved if you normally are a nighttime parkgoer. In fact, late, late nights in the parks aren't really an option right now. In addition, some nighttime activities that are crowded -- like the fireworks displays -- have stopped happening or have changed drastically. Fireworks right now are sporadic and are being "tested" rather than being the full "Happily Ever After Show" parkgoers at the Magic Kingdom are used to, for example.
Overall, if you are reading this, you may have already decided to try out to the parks or possibly skip all of this until social distancing is a thing of the past. Regardless, of your current or postponed plans to Walt Disney World, I hope this gives you some clarity regarding what to expect from the Florida parks at this time, as well as what has changed over the past 10 months or so.
I still have to ask though: Do you think you'll visit Disney World during the pandemic?
This poll is no longer available.
Amazing Race & Top Chef superfan with a pinch of Disney fairy dust thrown in. If you've created a rom-com I've probably watched it.
Your Daily Blend of Entertainment News
Thank you for signing up to CinemaBlend. You will receive a verification email shortly.
There was a problem. Please refresh the page and try again.