Walt Disney World Has Added Another New Rule To Keep The Parks Safe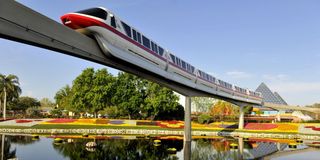 There was no question that when Walt Disney World reopened there would be a lot of new rules in place in order to help keep the guests safe and give them the confidence they would need to visit a theme park. The good news is that, based on the information we have, the resort has been successful in preventing any sort of outbreak from taking place on property. Part of the reason Disney World has done so well is probably because the theme park has continued to add and change rules over time, adapting to new best practices as well as observation of how guests are interacting in the park, and now there's another new rule, finish your food before you get in line.
As seen in the image below from BlogMickey, a number of new signs have been placed in several attraction queues, at the place where the line shifts from being outdoors to being indoors. The sign informs guests that eating and drinking are not allowed past that point. Previous rules already required that guests had to remain stationary while eating, which is essentially impossible in an attraction queue, but it would appear that wasn't enough and a specific rule for attraction lines was needed.
This is certainly a good rule to have. While social distancing is implemented in attraction queues, there's no way cast members can be managing all of the lines in every place all the time. As such, somebody eating in line has their mask down, which is simply a risk that Walt Disney World isn't going to want to take.
The rules in place when Walt Disney World first opened made a lot of sense and were mostly pretty obvious. Face coverings were required and temperature checks were done as guests entered the parks or Disney Springs. However, it's the fact that the rules have continued to evolve that makes the resort really seem to have guest safety in mind. When studies showed that bandanas and similar face covering were not as successful at stopping the spread of the virus, they were deemed unacceptable in the parks. And when guests were clearly using eating food as a loophole to walk around the park with no mask, the rule requiring guests to remain stationary was implemented.
This shows that Walt Disney World isn't simply following these rules because it has to, but is actively doing what it can to keep the parks safe. Disney has tried to use this successful track record at Walt Disney World as evidence that it is safe for Disneyland Resort in California to reopen, but thus far, it seems the argument has had little impact. Part of Disney California Adventure is set to reopen in a couple weeks, but only as an extension of Downtown Disney,
This new rule will certainly cause some minor inconvenience, but the added safety will be worth it. And to be honest, if you're visiting Walt Disney World right now, you're doing so with the clear understanding that there will be many slight inconveniences. On the plus side, the park is much emptier, and it's open in the first place, which probably make the downsides feel very minor.
CinemaBlend's resident theme park junkie and amateur Disney historian. Armchair Imagineer. Epcot Stan. Future Club 33 Member.
Your Daily Blend of Entertainment News
Thank you for signing up to CinemaBlend. You will receive a verification email shortly.
There was a problem. Please refresh the page and try again.