After Grindelwald Firing, Could Johnny Depp Be Returning To The Big Screen For A Major Tim Burton Role?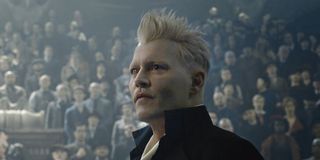 Johnny Depp's career and personal life are both at a monumental crossroads. Because accusations against the actor and his mounting legal troubles have taken a toll on his professional endeavors, he's facing an uncertain future. Fans and critics alike are wondering what his remaining options are -- but some believe that even after he was fired from playing Fantastic Beasts' Grindelwald, he may get another chance at the silver screen, thanks to old friend Tim Burton.
The past few months have, without question, been an uphill battle for Johnny Depp. After losing his libel case against The Sun, he was forced to step away from the Fantastic Beasts and Where To Find Them franchise. His ongoing court battles against Amber Heard continue to make him a controversial figure. While he was once one of Hollywood's most bankable stars, according to SCMP, studios in the United States are likely to be reluctant to hire him in the wake of the domestic violence accusations against him. Warner Bros.' decision to remove him from Fantastic Beasts seems to indicate there's some truth to that.
Still, there may be options for the actor to continue his career. SCMP cited multiple producers who insinuated he could still find roles outside of the United States. Also, not everyone appears to have given up on him. The publication revived speculation about his longtime collaborator, Tim Burton, finally making a Beetlejuice sequel -- and giving Johnny Depp a prominent role in the film. Though he didn't appear in the original 1988 movie, Depp has had career-defining turns in several other Burton films, including Edward Scissorhands, Ed Wood and Sleepy Hollow.
What would a strong showing in a new film do for Johnny Depp's career? Indie producer Orian Williams told SCMP it could make all the difference in the world:
For the moment, there are still too many unknowns as far as Johnny Depp's future is concerned. He is appealing the UK court's ruling against him, he continues to pursue a lawsuit against Amber Heard and he has vowed to continue to fight to attempt to clear his name. If the ruling against him is overturned, there's definitely a chance Hollywood studios could come calling again.
Even if the ruling remains in place, Hollywood has a long history of making room for actors to revive their careers. It's likely there are producers other than Orian Williams who would be willing to give Johnny Depp another chance if he can prove his bankability. So while he may be seen as a liability now, there's no telling how long that will continue to be the case.
Would you want to see Johnny Depp in Beetlejuice 2? Let us know in the comments!
Your Daily Blend of Entertainment News