Johnny Depp's Lawyers Say Actor Did Not 'Receive A Fair Trial' In Libel Lawsuit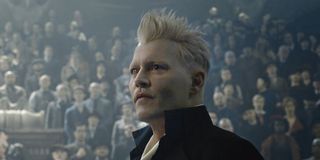 Johnny Depp may have lost his costly libel lawsuit against The Sun earlier this year, but he's not ready to give up his legal fight. His lawyers have filed an appeal in the United Kingdom to have his case re-examined, as they're arguing that he did not receive a fair trial the first time around.
The Pirates of the Caribbean actor initially filed the libel lawsuit against News Group Newspapers, which owns The Sun, regarding a column from its executive editor. The column claimed to have "overwhelming evidence" that Johnny Depp was a "wife beater" during his marriage to Amber Heard. The case ultimately dragged on for months, and was complicated by the COVID-19 pandemic.
Johnny Depp's legal team brought forth evidence that attempted to dispel those claims, including text message logs and character witness testimony from women he's had relationships with. However, Justice Nicol -- the judge presiding over the case -- ruled against Johnny Depp, stating that the publication had provided enough evidence to prove that their claim was "substantially true."
Johnny Depp's legal team has now asked the appeal court to order a new trial, and they've laid out their rationale. The actor's lawyer, David Sherborne, released this statement:
David Sherborne highlighted key points from Justice Nicol's decision that he believes led to an unfair conclusion. In short, he believes the justice's "uncritical acceptance" of Amber Heard's claims didn't include appropriate analysis of the case. He argued that the justice excluded relevant evidence that supported Johnny Depp's claims about Amber Heard's behavior and didn't consider whether her allegations against him would hold up under scrutiny:
In addition to impacting public perception of Johnny Depp, the original verdict in the libel case has already resulted in significant consequences in his career. Following the verdict, he was fired from the role of Gellert Grindelwald in the Fantastic Beasts and Where To Find Them franchise.
And the libel case against The Sun is not Johnny Depp's only legal battle at the moment, as he's also in the midst of a $50 million lawsuit against Amber Heard for defamation. Thus far, the appeal court has not ruled as to whether it will accept Johnny Depp's request for a new trial. Keep it here at CinemaBlend for more updates as they arrive and for more news from the world of movies and TV.
Your Daily Blend of Entertainment News
Thank you for signing up to CinemaBlend. You will receive a verification email shortly.
There was a problem. Please refresh the page and try again.