Suicide Squad's Joel Kinnaman Shares His Thoughts On Calls To Release The Ayer Cut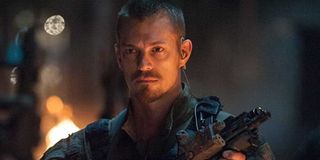 When Suicide Squad hit theaters in 2016, it wound up being a big disappointment to longtime fans of the comic series. Creative differences between director David Ayer and the studio led to the final cut of the film being much different from his original vision. Now that Warner Bros. has opened up the door for fan-supported director's cuts, some have renewed the call for The Ayer Cut of Suicide Squad -- and even some of the cast members, like Joel Kinnaman, have weighed in.
In both David Ayer's Suicide Squad and James Gunn's upcoming The Suicide Squad, Joel Kinnaman plays the pivotal role of Rick Flag. He hasn't held back on his feelings about the original film -- and how he, like fans and critics, felt it could have been much better. So it shouldn't come as a huge surprise that he's got some feelings about the potential of Suicide Squad following in the Snyder Cut's footsteps. When asked if he thinks an Ayer Cut would be a good idea, he said:
It's an interesting perspective, and a good one to keep in mind -- that this experience of a filmmaker and studio not seeing eye-to-eye is far from abnormal. Still, based on Joel Kinnaman's comments on The Playlist Podcast, he would be on board with an Ayer Cut, for one reason in particular:
Joel Kinnaman isn't the only member of the original Suicide Squad who's voiced an opinion on a potential Ayer Cut. Jared Leto, who famously played the Joker in a surprisingly small role, has also hinted that he'd be happy for David Ayer if he were able to have another opportunity to revisit the film. Margot Robbie, a.k.a. Harley Quinn, has also admitted she'd be curious to see The Ayer Cut. Given that fans were especially frustrated with Harley Quinn's character arc in Suicide Squad, it's easy to understand why.
Of course, David Ayer himself seems to be up to the challenge of bringing the world the Suicide Squad he imagined. There's just one problem: he's made it pretty clear that as of right now, The Ayer Cut is not happening. So for now, we'll have to wait for James Gunn's The Suicide Squad -- it's currently due to hit theaters in August 2021.
Your Daily Blend of Entertainment News
Thank you for signing up to CinemaBlend. You will receive a verification email shortly.
There was a problem. Please refresh the page and try again.