David Ayer Explains How His Suicide Squad Cut Was 'Ripped To Pieces'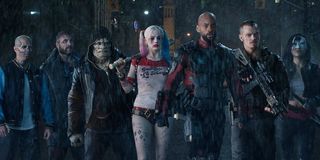 Although 2016's Suicide Squad was a commercial success, it didn't fare nearly as well on the critical front. However, following the announcement that Zack Snyder's Justice League, a.k.a. the Snyder Cut, is heading to HBO Max, there have been calls for the "Ayer Cut" of Suicide Squad to be made available to the public, as Ayer has confirmed that his original vision for the movie was significantly altered due to studio interference.
Recently, David Ayer was asked what Suicide Squad scene was the toughest to "leave on the cutting room floor," to which he responded, "The first 40 minutes," and he followed that up with another tweet saying how he couldn't emphasize enough that the movie was "ripped to pieces." Ayer then explained the why Suicide Squad was so drastically changed with the following:
The beginning of 2016 was an interesting time for the superhero movie genre. After years spent in development hell, Deadpool finally arrived that February and showed that an R-rated comic book adaptation could be successful both critically and commercially. And while Batman v Superman: Dawn of Justice has certainly built a loyal fanbase, there's no question that it earned a thrashing from a lot of professional critics during its theatrical run.
Those two factors led to Warner Bros and DC leadership deciding to take Suicide Squad in an entirely different direction just months before the movie was supposed to come out. So not only was Ayer unable to put the finishing touches on his original edit of Suicide Squad, he later had to shoot new scenes that were written by Geoff Johns, the then-Chief Creative Officer at DC Entertainment. The result was Suicide Squad becoming a more lighthearted and comedic movie, rather than the "soulful drama" that Ayer wanted to deliver.
While sometimes reshoots can end up improving a movie (look at Rogue One: A Star Wars Story), that didn't end up being the case with Suicide Squad, with the third DC Extended Universe installment ranking at just 26% among profession critics on Rotten Tomatoes. It's also worth mentioning that Geoff Johns would later rewrite portions of Justice League, another DCEU movie that suffered from studio interference and critically underperformed.
However, with Zack Snyder's original vision for Justice League now heading to streaming, there are plenty of DCEU fans campaigning for the Ayer Cut of Suicide Squad to be released on HBO Max too, including David Ayer himself. There hasn't been any official word yet on if that will happen, but Ayer said back in May that his cut would be "easy to complete." Among the ways the Ayer Cut would stand out from the theatrical Suicide Squad is including more screen time for Batman and The Joker, Katana getting into a fight with the rest of the Squad and Diablo making it out of the movie alive, to name a few.
Whether or not Suicide Squad's Ayer Cut ever sees the light of day, Task Force X's time on the big screen isn't over. Next year, James Gunn's The Suicide Squad will come out, although the only characters from the first Suicide Squad movie who are returning are Margot Robbie's Harley Quinn, Jai Courtney's Captain Boomerang, Viola Davis' Amanda Waller and Joel Kinnaman's Rick Flag. The Suicide Squad will also function as a standalone sequel, meaning you won't need to have watched 2016's Suicide Squad to follow along with this next cinematic adventure.
The Suicide Squad lands in theaters on August 6, 2021, and should there be any official announcemnt concerning the Ayer Cut of Suicide Squad, we here at CinemaBlend will let you know. Keep track of other DC movies on the way with our handy guide.
Connoisseur of Marvel, DC, Star Wars, John Wick, MonsterVerse and Doctor Who lore. He's aware he looks like Harry Potter and Clark Kent.
Your Daily Blend of Entertainment News
Thank you for signing up to CinemaBlend. You will receive a verification email shortly.
There was a problem. Please refresh the page and try again.