Possessor Ending Explained: Who's Possessing Who In Brandon Cronenberg's Twisted Sci-Fi Horror Film?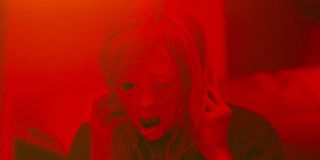 CinemaBlend participates in affiliate programs with various companies. We may earn a commission when you click on or make purchases via links.
I can only imagine how proud David Cronenberg (a master of intensely thought-provoking and simply intense horror classics) must be of his son, Brandon Cronenberg, for what he has made out of his own filmmaking career thus far. Case in point, his sophomore feature-length directorial effort Possessor - an intensely thought-provoking and simply intense horror film featuring Andrea Riseborough, Christopher Abbott, and Jennifer Jason Leigh among the talented cast. That being said, I can also only imagine how many people walked away from the Possessor ending and wondered, What the hell happened there?
The unique and unflinchingly brutal sci-fi thriller, which is now available to stream on Hulu (opens in new tab), is mainly centered on Andrea Riseborough's Taysa Vos. Her career, assuming the identities of other people using brain implant technology in order to get away with high-price assassinations, has put a strain on her relationship with her husband and young son, but especially with herself. Her latest task, to possess the body of her target's future son-in-law and employee, Colin Tate (It Comes at Night star Christopher Abbott), proves to be the most challenging one yet when it becomes more and more difficult to determine who is really in control.
I intend, not only to clarify that aspect of this trippy masterpiece for any understandably disoriented viewers, but also to further explain the dual meaning behind that detail you may have missed. We also might be able to get to the bottom of what could have possibly possessed Brandon Cronenberg to come up with a film like Possessor in the following breakdown of its most important events, starting at the very end.
Spoilers ahead!
What Happens At The End Of Possessor
Tasya Vos' struggle for control has left her trapped in the mind of Colin Tate, who invades the home of Vos' estranged husband, Michael (Rossif Sutherland), and son, Ira (Gage Graham-Arbuthnot) in hopes to find some answers. Tate threatens to kill the confused Michael unless Vos comes out to explain what she has been doing to him, to which she (in his subconscious mind) informs him that he has been in control, before admitting to her non-genuine love for her husband. This seemingly gives Tate the go ahead to brutally murder Michael with a meat cleaver… or so we think.
"Tate" says, "Pull me out," revealing Michael's killer to actually be Vos, who once again struggles to "self-terminate" and exit her host. Ira then appears to stab Tate's neck and echoes the request to be pulled out. It is visually revealed that Vos is undeniably the one pulling the trigger when she aggressively guns down "Ira." The bodies both fall to the ground with puddles of their blood merging together on the kitchen floor.
Vos is successfully disconnected from the now dead Tate and sees her boss, Girder (Jennifer Jason Leigh), being removed from the system as well - revealing her to be the one who possessed Ira. The two hold their routine post-possession psychological evaluation, determined by Vos' memory of and emotional response to a series of objects. One of these items is a frame holding a pressed butterfly, which she regrettably admitted to having killed, at her last evaluation. However, this time, Vos acknowledges she was responsible for its death, but shows no remorse, at which point a satisfied smirk forms on Girder's face.
Vos' Possession Of Tate Is A Back And Forth Identity Struggle
The first key to understanding the symbolism and hidden details of Tasya Vos and Colin Tate's conflict is Brandon Cronenberg's inspiration to write Possessor, as he told JoBlo, from his own experience feeling he had to play a character to fit his surroundings. Vos does that for a living and its psychological toll, outside of murder, is clear from having to rehearse conversations with family to forgetting specific memories. Tate is similarly damaged even before his identity is literally stolen from within, having no close family and a morally bankrupt job at a data mining company.
Our main characters' own identity struggles take on a whole new meaning when Tate, now overpowering Vos, is confused over the horrible things he seems to have done and Vos' life is threatened when he manages to access her mind to use it against her. Thus, at is core, Possessor is a story about how easily people can lose their sense of self, whether it is to another person or their career. Speaking of...
Girder Manipulates Vos Into A Sociopath
The one detail about Possessor most clear by the end is Tasya Vos' descent into sociopathy, as identified by her sudden lack of remorse at the butterfly she killed as a child. Yet, this evolution was no accident and much of the film's central assignment was by Girder's design in hopes to condition her "star performer" into an emotionless killer. Empathy had prevented Vos' from taking full control over her hosts and she figured out a way put an end to that.
Girder knew Michael and Ira were holding Vos back, so to effectively sever those emotional ties, she sent Eddie (Raoul Bhaneja) to help Vos gain full control with a procedure that she intentionally rigged to backfire, allowing Tate to access Vos' mind. This helped Tate find Michael's house so Vos could "realize" she did not love her husband and, using Tate's body, kill him and Ira, whom Girder possessed both to complete Vos' disconnect and ensure the boys' murder. When Vos does not acknowledge her remorse for killing the butterfly, Girder's smiles because her plan was successful.
It was evident that Possessor would be an indelibly disturbing experience from its bloody and viscerally brutal opening sequence, in which Tasya Vos (possessing Gabrielle Graham's character Holly) relentlessly stabs her target past a visibly necessary amount. What I, and other fans of this modern, Black Mirror-esque parable may not have been, but should have been, prepared for is just how much darker the story would be on a psychological level, pushing the limits of how relatable a film of the sci-fi/horror crossover category can, and quite uncomfortably so, at that. Thank you in advance, Brandon Cronenberg, for the worrying suspicion I will surely experience the next time I do not seem to feel "myself."
Jason has been writing since he was able to pick up a washable marker, with which he wrote his debut illustrated children's story, later transitioning to a short-lived comic book series and (very) amateur filmmaking before finally settling on pursuing a career in writing about movies in lieu of making them. Look for his name in just about any article related to Batman.
Your Daily Blend of Entertainment News
Thank you for signing up to CinemaBlend. You will receive a verification email shortly.
There was a problem. Please refresh the page and try again.