Jared Leto Says You Can Thank Brad Pitt For His Wild Fight Club Look, Recalls Filming The Fight Scenes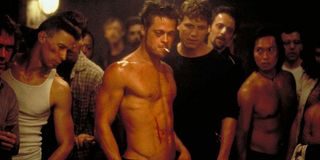 Jared Leto has worked on a number of impressive films over the course of his career, often while sporting an off-kilter look – including in David Fincher's 1999 controversial 1999 hit Fight Club. Recently, he revealed exactly why his character in the film, Angel Face, has such noteworthy style, as it turns out that Brad Pitt, who played the iconic Tyler Durden, is partly responsible for Leto's bleach blond hair.
In a recent interview with GQ, Jared Leto revealed that Once Upon a Time in Hollywood star Brad Pitt was one of the main reasons that he made the choice to bleach his hair in the cult classic. Talking about his experience making the David Fincher film, Leto said,
While Jared Leto apparently always planned to sport lighter hair in Fight Club, it was apparently the suggestion of Brad Pitt that he go a bit extra with the look – saying that he should go super blond to achieve a Billy Idol style. The Oscar-winning actor went on to describe working with Pitt, and the unique atmosphere during the making of the movie.
Fans of Fight Club may remember the film's particularly violent bout between Leto's Angle Face and Edward Norton's character. In the interview Leto revealed that while they weren't actually fighting for real, there were times when punches would actually connect:
Despite its cultural significance, Fight Club went on to earn just a single Academy Award nomination for Best Sound Editing. While the film wasn't received particularly well by some, especially early on, it has since gathered a large cult following.
Some of the film's major stars have had pretty successful careers too. Edward Norton, Brad Pitt and Jared Leto have all earned multiple Academy Award nominations since appearing in 1999's Fight Club. Just last year Brad Pitt earned his second Oscar for his performance in Once Upon a Time in Hollywood. More recently, Leto has earned some love from the awards circuit for his performance in Netflix's The Little Things.
While there's no guarantee we will see Jared Leto and Brad Pitt sharing the big screen once again, fans of the cult hit can revisit Fight Club on Amazon (opens in new tab) right now. As for more recent film fare, be sure to check out CinemaBlend's 2021 Release Schedule for the latest heading to the big screen near you.
Into tracksuits by Paulie Walnuts, the Criterion Channel and Robert Eggers.
Your Daily Blend of Entertainment News
Thank you for signing up to CinemaBlend. You will receive a verification email shortly.
There was a problem. Please refresh the page and try again.