Alexander Skarsgard Reveals What It's Like To Star In Godzilla Vs. Kong, A Monster Movie Where No One Cares About The Humans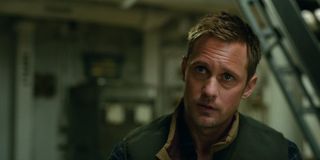 Godzilla Vs. Kong has taken the movie world by storm. It is a major success at the box office, which is huge for the film industry, and it has satisfied a rabid fanbase that has been engrossed in the prospect of watching Godzilla and King Kong duke it out on the big screen since its release date was announced. The main event is headlined by two iconic monsters, but where do performers like Alexander Skarsgard stand in on appearing in a monster movie where no one cares about the humans?
The spectacle of Godzilla and King Kong, two iconic characters on their own, coming together and clashing throughout a two-hour movie is an easy thing to sell. The two MonsterVerse creatures are worth the price of admission in their own right, but to function as a movie, there still have to be smaller pieces around them to move the story forward and get the audience to the big set pieces they came to see. One of those pieces, Alexander Skarsgard, who plays geologist Dr. Nathan Lind, seems to understand this perfectly, as he tells upprox.com:
Actors are used to being the center of attention, and it must be quite the shock realizing you are there to support two giant CGI monsters. Alexander Skarsgard is perfectly aware that his contribution to Godzilla Vs. Kong is not the force driving the success of the film, and his role is to supplement the real stars. Skarsgard sees his role as a way for the audience to get a complete picture of Godzilla Vs. Kong's narrative, allowing the grand nature of it all to speak for itself.
Alexander Skarsgard is known to have quite a vocal and supportive fanbase. From his starring role in the HBO series True Blood to his work in films, he's established himself as a high-caliber leading man. Still, he isn't convinced his portrayal of a man of science in a movie centered around two giant monsters fighting is moving the needle in any way. Skarsgard explains:
Alexander Skarsgard's Nathan Lind does have a crucial role, but it would take a lot more than a geologist has to offer to wrestle some of the spotlight from King Kong or Godzilla.
Alexander Skarsgard clearly had a good time being a part of Godzilla Vs. Kong, choosing the project as a vehicle to play a fun character in an exciting film. In fact, Skarsgard seems to be reveling in the spectacle of Godzilla Vs. Kong, like audiences across the world, have been. Here's hoping we see more of Skarsgard's Dr. Lind in the future.
Your Daily Blend of Entertainment News
Movie and TV obsessive. A good Heist movie is the way to my heart. Enjoyer of everything from Marvel Movies to Rom-coms.
Your Daily Blend of Entertainment News
Thank you for signing up to CinemaBlend. You will receive a verification email shortly.
There was a problem. Please refresh the page and try again.