Godzilla Vs. Kong: What Fans Are Saying About The New Movie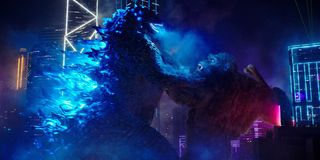 SPOILER WARNING: The following article contains multiple spoilers for Godzilla vs. Kong. If you don't want to have anything from the epic clash of the titans, you might want to come back after you've seen the movie for yourself.
The long-awaited showdown of the titans that is Godzilla vs. Kong is finally in theaters and on HBO Max and it's already off to a great start following a monster opening night. Those who have already seen the movie seem to be enjoying the hell out of the fourth installment to Legendary's MonsterVerse as it currently has a 95% Rotten Tomatoes audience score and spawned endless topics of discussion on social media.
We here at CinemaBlend have compiled a few of the funniest reactions to Godzilla vs. Kong, specifically it's final showdown between the iconic monsters as well as that big reveal that surely made longtime fans of the Godzilla franchise jump (and pound their chests) with joy. After watching all of these responses, you won't be the only one going back to watch Godzilla vs. Kong streaming.
Mechagodzilla's Weakness Being Scotch
Chances are, you've seen Godzilla vs. Kong before getting to this point or you don't care about having one of the best moments of the 2021 monster movie spoiled for you. That being said, the surprising reveal of Apex Cybernetics' big, bad, metallic Mechagodzilla made for one of the best moments in a movie bursting at the seams with badass scenes. But things didn't end up working out for man's answer to Godzilla and the ultimate machine was quickly brought down by his counterpart, Kong, and a flask of scotch. That scene of the scotch being poured on the iconic kaiju's control panel is one thing fans were quick to point out with some hilarious responses on Twitter.
Not long after the release of Godzilla vs. Kong, one Twitter user couldn't get enough of Josh Valentine (Deadpool 2's Julian Dennison) pouring out Bernie Hayes' (Brian Tyree Henry) flask on Mechagodzilla's console, proving that The Simpsons predicted yet another major event:
They weren't the only one who point out the flaw in Apex Cybernetics' security systems as another Twitter user quickly pointed out that real-life smartphones are better equipped for water damage than what appears to be a ridiculously expensive piece of hardware that was created as Godzilla's man-made counterpart:
The whole "the scotch ruined my fancy city-destroying machine" situation is even funnier when you think about how not 15 minutes earlier, Apex Cybernetics executive Maia Simmons (Eiza González) straight up sent energy from Hollow Earth through what's essentially a wifi connection. Think this went unnoticed? Think again:
But Scotchgate wasn't the only thing Godzilla vs. Kong fans jumped on after watching the two iconic movie monsters continue the tradition of destroying major population centers.
The Destruction Of Hong Kong In Godzilla
As soon as the first Godzilla vs. Kong trailer dropped, everyone knew that Hong Kong (filling in for Tokyo) didn't really stand a chance when the two mammoth titans decided to treat the megacity as an oversized wrestling ring. And the movie didn't disappoint (well, unless you're one of the characters left to clean up the mess), providing for more destruction than Superman and Zod in Man of Steel. The response to the decimation of one of the world's busiest cities also didn't disappoint.
One Twitter user, who channeled a very upset Walter White from Breaking Bad, showed off what they think Hong Kong city planners were going through upon seeing the movie's epic ending:
In addition to Hong Kong city planners, social media was quick to show how insurance companies would have reacted upon seeing the aftermath of Godzilla and King Kong (and Mechagodzilla) bringing down buildings and burning a hole to the center of the planet.
It's safe to say we'll never get a Godzilla/Batman crossover, but that didn't stop one Twitter user from setting up one hell of follow-up movie involving an angry and vengeful Bruce Wayne:
The epic showdown in Godzilla vs. Kong has drawn a lot of comparisons to the battle between Bruce Wayne and Clark Kent in Batman v Superman: Dawn of Justice, though I don't remember both movies ending this way:
With the destruction of Hong Kong and the beef between Godzilla and Kong (for now, at least) where does that leave the iconic movie monsters moving forward?
Godzilla And Kong At The End Of Godzilla Vs. Kong
In the final moments of Godzilla vs. Kong, we see the two titans form the closest thing to a bond two beasts with a millennia-long feud (if not longer) can possibly make. And while the two never shook hands, drove their separate ways, or even got bunk beds, Twitter users couldn't get enough of the special moment they shared.
Seeing a similarity between Godzilla vs. Kong and the Will Ferrell and John C. Reilly comedy Step Brothers, one Twitter user couldn't resist the urge to share this extremely relevant response:
After taking on Apex predator Mechagodzilla, one Twitter user liked to imagine a world in which Godzilla and Kong recreate the epic handshake shared by Carl Weathers and Arnold Schwarzenegger in Predator. I'm just trying to figure out who's the one pushing pencils in this scenario:
And last, but certainly not least, is this response, which sees Godzilla and Kong taking the place of Vin Diesel and Paul Walker in the emotional Furious 7 ending. I'm not crying, you're crying:
I'm not going to lie, that Godzilla vs. Kong tweet parodying the tear-jerker of a scene from Paul Waker's final Fast & Furious movie really got me.
These were just a handful of the Godzilla vs. Kong Twitter responses. With the movie continuing to build momentum at the theaters and on HBO Max, we could be looking at hilarious social media situation in the coming weeks. I just wonder how the Godzilla vs. Kong cast feels about all of this, especially the Scotchgate response.
Your Daily Blend of Entertainment News
Philip grew up in Louisiana (not New Orleans) before moving to St. Louis after graduating from Louisiana State University-Shreveport. When he's not writing about movies or television, Philip can be found being chased by his three kids, telling his dogs to stop yelling at the mailman, or yelling about professional wrestling to his wife. If the stars properly align, he will talk about For Love Of The Game being the best baseball movie of all time.
Your Daily Blend of Entertainment News
Thank you for signing up to CinemaBlend. You will receive a verification email shortly.
There was a problem. Please refresh the page and try again.