That Time Tom Cruise Ate Chocolate Cake For Three Days Straight While Shooting The Outsiders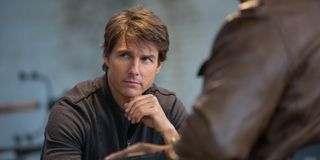 Tom Cruise is no stranger to putting his body on the line for the sake of the movie he's in. Cruise loves doing his own stunts, having no problem flying in fighter jets for Top Gun: Maverick or driving a motorcycle off of a ramp for Mission Impossible 7. Most impressive, however, might be Tom Cruise having to eat a ridiculous amount of chocolate cake while shooting The Outsiders.
Tom Cruise recently shared a story about Paul Newman showing him the ropes and giving him some sage advice about the weather in Chicago. Cruise then remarked on a funny story about working with Francis Ford Coppola on The Outsiders, during which he had to eat chocolate cake for three days, saying:
Tom Cruise had confidence in his ability to eat chocolate cake and stay true to the character, thinking, "How bad could it be?" Cruise thought since he liked chocolate cake, it wouldn't be that big of a deal to eat it for the scene in question, but he didn't expect to have to eat it for three whole days. This was an important and hilarious lesson for the actor to learn. During the same interview on The Graham Norton Show, the actor went on to explain that he became sick from having so much cake:
It must have been something to watch Tom Cruise day after day forcing himself to take another bite of chocolate cake, probably as thrilling as watching him perform the insane stunts he does today. Cruise is known for his frantic running in his films and his dedication to making his movies seem as authentic as possible. It's hilarious to think that eating chocolate cake is one of the hardest things he's ever had to endure whiile making movies.
Mission: Impossible 7 has been delayed to May 2022, and production is still underway for it and Mission: Impossible 8. But Tom Cruise is undoubtedly up to whatever obstacles he faces on screen and in production, and fans are waiting patiently to see what he does in the next installments of his iconic, action franchise.
Your Daily Blend of Entertainment News
Movie and TV obsessive. A good Heist movie is the way to my heart. Enjoyer of everything from Marvel Movies to Rom-coms.