What It's Like To Watch Mission: Impossible's Tom Cruise Do His Own Stunts, According To Simon Pegg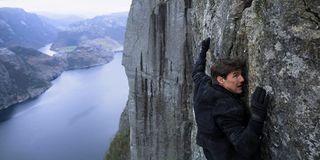 By now, most Mission: Impossible fans have come to expect Tom Cruise pulling off some new wild stunt for the franchise. We've seen him fly helicopters, endure dangerous motorcycle chases, and grab hold of an airplane as it took off. But while we've seen that in a movie, his co-star Simon Pegg has seen it in real life. Now, he's revealed what that's actually like on set.
Simon Pegg has been making Mission: Impossible movies with Tom Cruise for longer than most. His first foray into the franchise was Mission: Impossible 3. So, by now, he's seen Tom Cruise do some crazy stuff. Recently, he told Conan O'Brien on Conan what it's like to watch him do his own stunts:
While it's fun to watch Tom Cruise do stunts, it's easy to forget that they're inherently dangerous and could lead to serious injury and death. After all, Tom Cruise hasn't always come out of the stunts unscathed; he injured his foot during Mission: Impossible – Fallout. And he's been to known to film on trains and flying out of a plane.
Still, to perform the stunts, Tom Cruise undergoes an enormous amount of training. In the same interview, Simon Pegg said Cruise will train for hours and hours to make sure he's the best at something before he does it. Considering the danger involved, that seems like a smart move.
As for Mission: Impossible 7, it sounds like Tom Cruise won't be scaling back the dangerous stunts. Reportedly, Mission: Impossible fans are in for a wild ride as Tom Cruise has three stunts planned for the sequel. Director Christopher McQuarrie said these new stunts make the helicopter stunt seem like "tinker toys."
We may have already gotten a taste of what those stunts will be. After having filming delayed due to global events, Mission: Impossible 7 production has restarted earlier this fall. Of the stunts they've done, a dangerous looking motorcycle stunt was shown on social media, and there's reportedly a scene involving Tom Cruise on a train and a car chase that ends in a car crash.
So, buckle up, Mission: Impossible fans, this latest installment sounds like it'll be cranking things up a few notches. Hopefully, Tom Cruise will stay safe so we can eventually see him complete his space movie next.
Your Daily Blend of Entertainment News