Why Zack Snyder Says He 'Wouldn't Survive' Doing A Star Wars Movie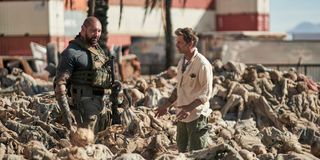 Zack Snyder's Army Of The Dead is almost here and looks like an explosion of violent zombie mayhem with Guardians Of The Galaxy star Dave Bautista leading the charge. It's been an eventful year already for Snyder. The director finally released his ultimate vision for the DCU in Zack Snyder's Justice League, and now he has one of the most anticipated Netflix movies releasing soon. Snyder has many options for future projects, and he just gave the reason why he 'wouldn't survive' making a Star Wars movie.
Speaking about his new film Army Of The Dead with TheTimes.co.uk, Zack Snyder remarked on the freedom he had working on this new project compared to Justice League and how the loss of his daughter has impacted him and his work. Snyder also remarked on why he couldn't see himself directing a Star Wars movie, saying:
Zack Snyder addresses his feelings towards his body of work and what he has learned about himself through his experiences in movies. Snyder feels as though films in the vein of Star Wars don't require or really want someone with a specific viewpoint helming a film but want someone to operate within the already established rules of the world. Snyder is someone who would rather create the world as he sees fit.
Zack Snyder has recently come out and gushed about how great his working relationship with Netflix is while throwing shade at the Justice League controversy that saw his original version of the DC blockbuster changed. Even now, news of concepts Snyder couldn't fit into his cut of Justice League are revealed, most recently with news about the cut Green Lantern character. The controversy was seemingly a lesson learned for Snyder and Warner Brothers in an event that has now changed the trajectory and approach of DC movies going forward.
Zack Snyder's Army Of The Dead is promised to be a pure vision from the director untouched by the higher-ups at Netflix, who have apparently given Zack Snyder much more freedom than he had working on DC films. Snyder Went through crazy lengths to recreate Las Vegas for the film but sadly had to cut a gag involving a penis from the movie. Whatever is next for Zack Snyder, he will be in complete control.
Your Daily Blend of Entertainment News
Movie and TV obsessive. A good Heist movie is the way to my heart. Enjoyer of everything from Marvel Movies to Rom-coms.