Spirit Untamed Reviews Are Here, Check Out What Critics Are Saying About The Spirit: Stallion Of The Cimarron Spin-Off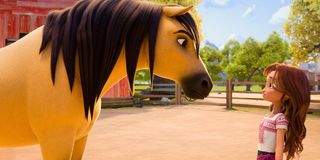 The summer movie season is here! The latest film from DreamWorks Animation, Spirit Untamed, gallops into theaters this Friday, June 4. It was directed by Elaine Bogan and co-directed by Ennio Torresan Jr. (in their feature film directorial debuts!) and features Isabela Merced, Jake Gyllenhaal, Julianne Moore, Marsai Martin, Mckenna Grace, Walton Goggins, Eiza González, and Andre Braugher. The feature is based on the Netflix series Spirit Riding Free and is a spin-off of the animated flick Spirit: Stallion of the Cimarron.
In this adventure movie, Lucky Prescott's life is changed forever when she moves from the city to a small frontier town and befriends a wild mustang named Spirit. Spirit Untamed doesn't release in theaters until this Friday, June 4, but critics have already started sharing their reviews, so let's see what they have to say.
Our very own Sarah El-Mahmoud was not very impressed with Spirit Untamed, rating it a two out of five stars. She noted that the animated flick could be fun for the right audience, meaning young kids. But she criticized the adventure movie for being too generic, a story we've seen over and over and over again (girl befriends horse, family forbids girl from hanging out with said horse, girl does it anyway). El-Mahmoud argued that the film underutilized its all-star cast and that the visuals are lacking and totally not memorable. She said:
Kate Erbland from IndieWire also touched on the somewhat lacking visuals of the animated movie, noting that some look flat. Erbland also criticized the in-cohesive nature of the movie, pointing out that the story could either be cut down or stretched out into a series, which oddly enough, already exists in Riding Free. Erbland said:
Yolanda Machado from The Wrap also commented on the design work of Spirit Untamed. She praised production designer Paul Duncan for the vivid backgrounds in the movie, but criticized the work on the actual characters in each scene, noting that the animation becomes a "technological whiplash." She also highly criticized the script, noting that the attempt to celebrate Lucky's Latino heritage falls flat with some contradictory choices. Machado said:
If you can believe it, yet another critic criticized the design work of Spirit Untamed. Peter Debruge of Variety considers this movie's predecessor, Spirit: Stallion of the Cimarron, superior in terms of visuals, and that movie came out 19 years ago! He said:
Lovia Gyarkye from The Hollywood Reporter had a bit more positive things to say about Spirit Untamed. Though she had some similar criticisms to the critics above, she enjoyed the film's focus on the friendship between Lucky and her two friends (played by Grace and Martin), while also appreciating the depth between Lucky and her father. Gyarkye thought the adventure flick was "beautiful to look at and occasionally genuinely funny." She said:
Well, it would seem that critics didn't enjoy Spirit Untamed too terribly much. But will audiences feel the same? We'll soon find out, as the animated feature releases only in theaters this Friday, June 4.
In the meantime, plan your next trip to the theater with our summer movie release guide.
Your Daily Blend of Entertainment News