Transformers Producer Shares Honest Thoughts About Where Bumblebee Spinoff Went Wrong (And What It Got Right)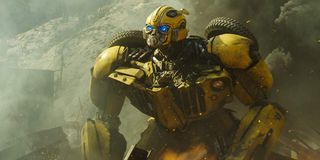 There are plenty of upcoming Transformers projects in the works, including Transformers 6 and Transformers: Rise Of The Beasts. The franchise continues to do well at the box office and deliver for its die-hard fans. Bumblebee was the first attempt at a spin-off for the series, and it delivered a more focused and character-driven story that still delivered the standard giant robot action the series hangs its hat on. A producer for Transformers has shared his honest thoughts about where the Bumblebee spinoff went wrong (and what it got right.)
Producer Lorenzo di Bonaventura recently spoke to Polygon about another movie he produced, the recently released Snake Eyes. Di Bonaventura spoke about the G.I. Joe's franchise success and the Transformers franchise and everything that finally brought Snake Eyes to the big screen. Di Bonaventura also spoke on Bumblebee, the first Transformers spinoff, after being asked about the lessons he learned from the film. He told Polygon one of the problems with the film and what it meant to the franchise as a whole, saying:
Lorenzo di Bonaventura discussed the marketing campaign for Bumblebee and how it affected the perception of what the movie was versus what it was doing. The trailers for Bumblebee showed off a film that was less action-oriented and gave off more of a Pixar vibe than a Transformers movie with its focus on the cuteness of Bumblebee and his human companion. Di Bonaventura is rightfully critical of the marketing, but the film still did great in theaters.
Bumblebee did surprise and become one of the more loved Transformers movies, and di Bonaventura says that the movie was huge for the franchise because it allowed them to tell a different type of story. Bumblebee was more focused on the relationships between the robot and its human companion, which was getting lost as the Transformers franchise went on. Bumblebee allowed the franchise to get back to some of the aspects that made the first film special. Lorenzo di Bonaventura went on to say:
Bumblebee was proof that the Transformers could expand their movie universe and tell different types of stories that still do well at the box office. The emotional connection between man and machine that bumblebee reignited from Transformers 1 will hopefully be more present in the franchise going forward as it prepares for more epic adventures.
A Bumblebee sequel may be on the way, and after the success of the spinoff and the story avenues it opened up for the franchise, it's a safe bet that we will see Bumblebee 2. Bumblebee star John Cena really wants to make a sequel, and more Cena is a pretty good thing these days. The transformers franchise can go in many crazy directions, even crossover with the G.I. Joe films. Whatever is in store, let's hope Bumblebee's influence has made its mark on the Transformers franchise.
Movie and TV obsessive. A good Heist movie is the way to my heart. Enjoyer of everything from Marvel Movies to Rom-coms.
Your Daily Blend of Entertainment News
Thank you for signing up to CinemaBlend. You will receive a verification email shortly.
There was a problem. Please refresh the page and try again.