Upcoming Transformers Movies: All The Films And Spinoffs In The Works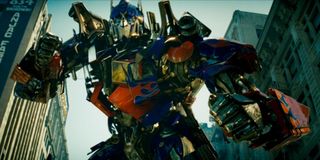 The Transformers movies have always been somewhat of a mixed bag. For every critical darling like 2018's Bumblebee there's something like Transformers: Revenge of the Fallen or Transformers: The Last Knight, but it appears the franchise that first got kicked off with the 2007 Michael Bay box office has some new life in the form of multiple upcoming and exciting movies in the very near future.
With the next film in the saga already with a release date (though we don't know much of anything about the nature of the movie) set for summer 2022 and an adaptation of the computer-generated animated '90s series Beast Wars in the works, the dark days of the franchise's past could very well be behind us, even if we don't exactly know what's going on with the Bumblebee sequel. All that being said, let's dive into what's next for the Transformers saga…
Untitled Transformers Movie - June 24, 2022
The next installment in the Transformers franchise will land in theaters on June 24, 2022, but what that movie is exactly remains to be seen. The date, which was announced by Deadline in May 2020, will continue the adaptations of the Hasbro line of toys and '80s animated series, but that's about all that has been confirmed at this point. There are, however, a couple movies that could end up taking this spot in what should be one eventful year for theaters.
One possibility is the mysterious project that Creed 2 helmer Steven Caple Jr. has been eyed for going back to November 2020 when Deadline reported that the up-and-coming director was close to a deal with Paramount Pictures to continue the franchise in some shape or another. The details of that film have yet to be revealed but it will draw from a script by King Arthur: Legend of the Sword writer Joby Harold, which happens to be one of two in development. This movie even reportedly has its first star now that Hamilton's Anthony Ramos is in final negotiations for a leading role.
The other possibility could be a followup to the hugely popular Bumblebee, but more on that later.
Angel Manuel Soto/Marco Ramirez Transformers Standalone Movie - TBD (Pre-Production)
There is a completely separate Transformers movie in the works over at Paramount with the still-untitled standalone movie that is to be directed by Angel Manuel Soto (Charm City Kings) based on a script being put together by Marco Ramirez, who co-created the Netflix Marvel superhero crossover The Defenders and served as a writer on six episode of Daredevil prior to that.
This second mysterious Transformers movie, which per The Hollywood Reporter is reportedly being "developed apart" from other movies in the franchise, though no other details have been revealed at this time. It is hard to say exactly when more will be revealed about the still untitled standalone movie, but expect to see a lot of bot-on-bot action as Autobots face off against their evil counterparts, the Decepticons.
Beast Wars Movie - TBD (Pre-Production)
The Transformers spinoff series, Beast Wars, was introduced in the mid-1990s and told the story of the descendants of the Autobots (called Maximals in the series) and Decpticons (Predacons in the CGI series), making for some pretty amazing television in its time. A quarter century later, the 1996 series (which ran for 52 episodes before getting a spinoff of its own, Beast Machines) will finally be getting a proper movie adaptation at some point in the not so distant future.
Back in January 2020, Deadline reported on the creation of a spinoff movie based on the Beast Wars property, one that would be developed by James Vanderbilt (Murder Mystery). One of the most fascinating aspects of this story, well besides the fact that Optimus Primal, Cheetor, Rhinox, Megatron, and the rest of the insane animal-based transformers finally get their day, is the fact that Vanderbilt has reportedly been working on the movie since April 2019. Details still remain unclear at this time, however, but hopefully more is revealed as the Transformers franchise continues to build steam.
Animated Transformers Prequel - TBD (Post-Production)
Everyone loves a good origin story, right? Well, Transformers fans will get that soon enough when the animated prequel film exploring the origins of the endless battle between the Autobots and Decepticons on the planet Cybertron is released at some point in the future. Announced around the same time most of the upcoming Transformers movies were teased, this animated film is being put together by Paramount Animation and Hasbro's eOne with some pretty big heavy-hitters involved.
Per an April 2020 Deadline report, the powers that be have tapped Toy Story 4 director Josh Cooley to lead the still untitled Transformers prequel with Andrew Barrer and Gabriel Ferrari, who wrote Ant-Man and the Wasp tapped to pen the script. Not much is known about the project at this time besides that it will showcase the relationship between Optimus Prime and Megatron and possibly what went down between the two on Cybertron before they both set off for Earth.
Another Bumblebee Movie? - TBD
We haven't seen the last of Bumblebee just yet, especially after all the praise and moviegoers' dollars the Autobot's origin story raked in at the box office in 2018, but how the character is treated going forward remains one of the biggest mysteries with the entire Transformers franchise at this point in time. In 2019 The Hollywood Reporter noted that producer Lorenzo di Bonaventura has already said a sequel is in development, but if that means the character will show up in the 2022 movie or something completely different is not yet known.
Hell, even John Cena, who was honestly one of the best parts about Travis Knight's Bumblebee previously told CinemaBlend he would be down to reprise his Jack Burns character in a sequel if Paramount Pictures ever came calling. And for Knight, well, he said he already had some ideas in mind when asked about it a few years back.
Planned Hasbro Cinematic Universe - TBD
There has been talk of a Hasbro Cinematic Universe for several years now, one that would serve as a bridge to connect properties like G.I. Joe and Transformers similar to how Marvel has been doing things with the MCU since 2008's Iron Man. And while there hasn't been much officially said about the possibility of the two iconic toy lines and film franchises sharing a screen, now would be the perfect time to start working on a way to bring the two pop culture juggernauts together, especially with the 2022 Transformers movie and upcoming G.I. Joe reboot on the way.
There is still a lot of time before the Autobots roll out with more theatrical releases, but there are a ton of great 2021 movie premiere dates to get all excited about while you wait.
Philip grew up in Louisiana (not New Orleans) before moving to St. Louis after graduating from Louisiana State University-Shreveport. When he's not writing about movies or television, Philip can be found being chased by his three kids, telling his dogs to stop yelling at the mailman, or yelling about professional wrestling to his wife. If the stars properly align, he will talk about For Love Of The Game being the best baseball movie of all time.
Your Daily Blend of Entertainment News
Thank you for signing up to CinemaBlend. You will receive a verification email shortly.
There was a problem. Please refresh the page and try again.