The Last Milestone Director Connects Eilud Kipchoge With Simone Biles And Colin Kaepernick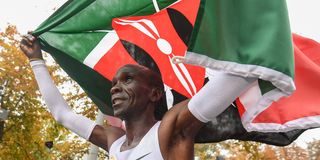 Directed by Jake Scott and produced by Ross Plummer, Kipchoge: The Last Milestone tells the awe-inspiring story of olympian Eliud Kipchoge breaking the marathon record of under two hours. The documentary begins with Kipchoge deciding to attempt to break the record, and follows his preparation and training, both mental and physical, through the completion of the event. When speaking in support of the film, Jake Scott made a connection between Kipchoge and fellow world-renowned athletes Colin Kaepernick and Simon Biles.
Jake Scott spoke with CinemaBlend for his latest film Kipchoge: The Last Milestone. When asked about the biggest challenge in documenting Eliud Kipchoge's record-breaking journey, he revealed it was not so much a challenge as something held great importance to him, which was honoring Kipchoge's message and beliefs. I then asked Scott for his thoughts on creating something that is sure to inspire many viewers to go after their own dreams, and he said the following:
Jake Scott's mention of Kipchoge: The Last Milestone being seen as a story of excelling in one's own truth rather than a rallying cry for athletic greatness is one of my favorite things about the film. Viewers who are not athletes can still relate to Eliud Kipchoge's message that no human is limited. He says in the film that he wants to show people that they can achieve what they put their minds to (as well as work and train for), regardless of the particular circumstances.
When looking up to any public figure or celebrity, it's easy to compare their talent to your own and think that you can't do something. Part of the beauty of Kipchoge: The Last Milestone is that while Eliud Kipchoge is the one that broke the record, he didn't do it alone. He had a full team of athletes, nutritionists, scientists, as well as an emotional support system, with him every step of the way.
Kipchoge: The Last Milestone is now available On Digital. Watch the film's trailer here. For more documentaries and biopics, CinemaBlend has you covered. Check out these sports movies for athlete-centered fiction.
Obsessed with Hamilton and most things Disney. Gets too attached to TV show characters. Loves a good thriller, but will only tolerate so much blood.
Your Daily Blend of Entertainment News
Thank you for signing up to CinemaBlend. You will receive a verification email shortly.
There was a problem. Please refresh the page and try again.