The Best Documentaries On HBO Max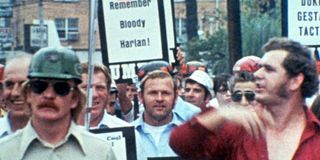 CinemaBlend participates in affiliate programs with various companies. We may earn a commission when you click on or make purchases via links.
There are plenty of reasons why it's a good idea to sign up for an HBO Max account, especially in 2021. And while the collection of movies, all those original shows, and even relaxing and transfixing programs like A World of Calm are all great reasons to sign up for the supercharged version of the premium cable service, the documentaries on HBO Max are some of the best you will find anywhere today.
From sentimental and enlightening documentaries like Won't You Be My Neighbor to the terse and downright unsettling classic pieces of documentary filmmaking like Harlan County, USA, there is a seemingly endless list of great films at your fingertips with HBO Max. Below is a list of the best the streaming service has to offer in terms of documentaries, but it should be noted that this doesn't include all the great docuseries the streamer has introduced since its 2020 launch (though they are all worth checking out).
Won't You Be My Neighbor (2018)
The 2018 documentary Won't You Be My Neighbor tells the story of Fred Rogers, the gentle, sensitive, and empathetic host of the classic children's program Mister Rogers Neighborhood. A film that both opens your heart and eyes to the impact of one of the most influential television hosts of all time, Morgan Neville's Won't You Be My Neighbor follows Rogers through the ups and downs of his career, as told by the people he helped the most.
Stream Won't You Be My Neighbor on HBO Max.
The Last Cruise (2021)
In February 2020, the Diamond Princess cruise ship became the center of the first major COVID-19 outbreak outside of Wuhan, China, with at least 712 of its 3,711 passengers and crew testing positive for the virus. The 2021 documentary The Last Cruise, which is primarily footage recorded by the passengers (trapped in their rooms) and crew (forced to live in cramped quarters and go about their daily routines) aboard the ship during the extended quarantine, shows in full detail what life was like on the cruise from hell.
Stream The Last Cruise on HBO Max.
Also Try: The Day Sports Stood Still**.**
Harlan County, USA (1976)
Barbara Kopple's Academy Award-winning documentary Harlan County, USA, spends a year with a group of some 200 coal miners in rural Kentucky who go on strike in an effort to improve conditions for themselves and their families. Stirring and raw, heartfelt and honest, Kopple's "fly on the wall" approach to documentary filmmaking is marvelous if not incredibly unsettling, especially after one of the miners is shot and killed during one of the many scuffles featured throughout.
Stream Harlan County, USA on HBO Max.
The End (2004)
The 2004 HBO original documentary The End, follows a group of five hospice patients, who, along with their families, prepare for the final stage of their lives. This heartbreaking yet honest approach to our own mortality is one of the most beautiful documentaries on HBO Max even if it tackles a subject no one really wants to discuss. Profoundly moving and educational, it is hard to come out of The End without feeling, or at least, feeling something.
Gimme Shelter (1970)
The Altamont Free Concert in December 1969 was supposed to be the West Coast version of Woodstock with the day's biggest musical acts — Grateful Dead, Santana, Jefferson Airplane, and The Rolling Stones — providing hundreds of thousands of concertgoers with a great counterculture experience. What happened, which is captured in the 1970 documentary Gimme Shelter, was anything but peaceful as one attendee was stabbed to death by a member of the Hells Angels, in addition to numerous other acts of violence on one of the darkest days in music.
Stream Gimme Shelter on HBO Max.
Going Clear: Scientology And The Prison Of Belief (2015)
Alex Gibney's celebrated 2015 documentary Going Clear: Scientology and the Prison of Belief, which is based on Lawrence Wright's 2013 non-fiction book of the same name, spends two hours telling the stories of former members of one of the most notorious and secretive religious organizations in modern history. Over the course of this two-hour dive into strange and elusive world of Scientology, Gibney addresses allegations of abuse and those who thought they could never escape.
Stream Going Clear: Scientology and the Prison of Belief on HBO Max.
Andre The Giant (2018)
The 2018 HBO documentary Andre the Giant tells the unbelievable life story of André René Roussimoff, better known by his in-ring name Andre the Giant, as he goes from a young French boy with gigantism to one of the most iconic wrestlers of all time. And while the documentary spends a large time covering Andre's wrestling career (including the explosive WrestleMania 3 main event match with Hulk Hogan) and all the tall tales that accompanied him, the film does a tremendous job of detailing the softer and more gentler side of the long misunderstood giant.
Stream Andre the Giant on HBO Max.
Robin Williams: Come Inside My Mind (2018)
Released just shy of the four-year anniversary of his 2014 death, the HBO documentary Robin Williams: Come Inside My Mind offers an in-depth and intimate look at one of the biggest legends of the comedy world. Told mostly through Williams' own words and rarely seen archival footage (though there are interviews with the late comedians friends and contemporaries), this poignant and engrossing film offers audiences a brief glimpse at the other side of tragic figure.
Stream Robin Williams: Come Inside My Mind on HBO Max.
Also Try: Everything Is Copy - Nora Ephron: Scripted and Unscripted
The Inventor: Out For Blood In Silicon Valley (2019)
Before you watch the rise and fall of Theranos founder Elizabeth Holmes soon get the docudrama treatment with Hulu's The Dropout, check out Alex Gibney's 2019 documentary The Inventor: Out for Blood in Silicon Valley, which does a tremendous job of telling a story about an ambitious entrepreneur who never abandons her billion-dollar idea even when the plan blows up in her face. This engaging and eye-opening film shows just how far ambition, and a fear of failure, can push someone with a dream.
Stream The Inventor: Out For Blood in Silicon Valley on HBO Max.
Jimmy Carter: Rock And Roll President (2020)
The 2020 documentary Jimmy Carter: Rock an Roll President is, at times, about the former United State President's rise to political power, and others about the state of popular music in the 1970s, creating one of the most fascinating documentaries of its kind. Enhanced bypass archival footage and interviews with the likes of Willie Nelson, Bob Dylan, and the Allman Brothers, this charming CNN Films original is one of the most uplifting experiences I've had in a quite some time.
Stream Jimmy Carter: Rock And Roll President on HBO Max.
Diana, Our Mother: Her Life And Legacy (2017)
Released 20 years after the tragic 1997 death of Princess Diana, her sons, Prince William and Prince Harry take a look back at their mother and Princess of Wales in Diana, Our Mother: Her Life and Legacy. With rare and never-before-seen footage of Princess Diana and touching narration from her children, this profoundly touching portrait is remarkable in every way.
Stream Diana, Our Mother: Her Life and Legacy on HBO Max.
Beware The Slenderman (2017)
For some, the online urban legend of the Slenderman is nothing more than a game to play on the internet, but for others, like the subjects of the 2017 documentary Beware the Slenderman, it is anything but fun and games. This harrowing film tells the story of two 12-year-old girls who stabbed another young girl to pay tribute to the legend and the events that immediately followed.
Stream Beware the Slenderman on HBO Max.
Hoop Dreams (1994)
The 1994 documentary Hoop Dreams is not only one of the best sports documentaries ever released, it also happens to be one of the best basketball movies of all time. Filmed over the course of five years, the documentary follows two inner-city high school basketball stars who push through insurmountable struggles to achieve their dream of becoming NBA stars.
Stream Hoop Dreams on HBO Max.
A Good Job: Stories Of The FDNY (2014)
The 2014 HBO documentary A Good Job: Stories of the FDNY follows acting legend and former New York firefighter Steve Buscemi explores what it's like to have one of the toughest jobs in one of the toughest cities in the United States. Through touching interviews with former and current firefighters, this insightful one-hour film helps tell the stories of those who protect countless New Yorkers each and every day.
Stream A Good Job: Stories Of The FDNY on HBO Max.
Also Try: What Happened on September 11
If You're Not In The Obit, Eat Breakfast (2017)
A few years before his death, comedy legend Carl Reiner hosted one of the most fun and uplifting documentaries you'll find on HBO with If You're Not in the Obit, Eat Breakfast. Over the course of the film's 85-minute runtime, Reiner examines the lives of others living in the '90s and the secret of their longevity.
Stream If You're Not in the Obit, Eat Breakfast on HBO Max.
Each of these documentaries are special and meaningful in their own way. Some are uplifting and will get a good chuckle out of you while others will leave you questioning your life decisions. And while they're different in just about every way imaginable, they all have something to teach you, which is what you should always want from a documentary. If you want to see what other documentaries are coming out this year, especially Peter Jackson's The Beatles: Get Back, check out CinemaBlend's list of 2021 movie premiere dates.
Philip grew up in Louisiana (not New Orleans) before moving to St. Louis after graduating from Louisiana State University-Shreveport. When he's not writing about movies or television, Philip can be found being chased by his three kids, telling his dogs to stop yelling at the mailman, or yelling about professional wrestling to his wife. If the stars properly align, he will talk about For Love Of The Game being the best baseball movie of all time.
Your Daily Blend of Entertainment News
Thank you for signing up to CinemaBlend. You will receive a verification email shortly.
There was a problem. Please refresh the page and try again.