AwardsBlend Podcast #11 - Recapping The Oscars And A Major Announcement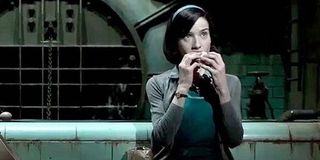 The Oscars have come and gone. Did you guys notice? Viewership was way down on Sunday night. The Academy Awards telecast plunged to record lows, meaning fewer than most tuned in to watch Jordan Peele win a Screenplay Oscar for Get Out, or Frances McDormand win a Best Actress Oscar for Three Billboards Outside Ebbing, Missouri. How many of you made it to the end, where Guillermo del Toro's The Shape of Water walked away with the top prize?
AwardsBlend co-hosts Sean O'Connell, Jake Hamilton and Kevin McCarthy got together late Monday night to dissect the Oscars telecast, and a large chunk of the conversation centered around what went wrong. Kevin and Jake actively disliked the telecast -- Jake says he started growing tired of the show during Jimmy Kimmel's monologue -- while Sean found more to appreciate. From there, the guys got into a conversation about WHY people stayed away in droves this year, and what it means to have The Shape of Water as a Best Picture winner.
Give this week's episode of AwardsBlend a listen!
And now that you have, you know that this is the last time you will be able to listen to an AwardsBlend show. Why? Because we are rebranding. We started this show as an Oscar-based program, talking about the different movies that are part of the ongoing Oscar season. And you can hear our run through this most recent Oscar marathon on our Spotify page.
But you guys, the listeners, have told us that mainly, you just like listening to us talk about movies. And so, Jake, Kevin and Sean are continuing the weekly podcast under the new name ReelBlend. It allows us to keep blending our opinions together into the same lively format, but to expand our focus to all things cinematic, and not just the Awards race.
What changes? Nothing. You can still download every episode for FREE on our iTunes page! Visit. Subscribe. Like and comment. Review! Apple loves when you have star ratings and reviews, so if you listened, and you liked it (or even if you didn't), let us know. We also are on Spotify. And Google Play. And basically everywhere that you download podcasts. So download us!
Meanwhile, follow the guys on Social Media at @Sean_OConnell, @JakesTakesand @KevinMcCarthyTV. We will be back at it next week, LIVE on CinemaBlend's Facebook page. RIP AwardsBlend. Long live ReelBlend!
Movie junkie. Infatuated with comic-book films. ReelBlend cohost. Resident dad. Extroverted introvert. Wants to see the Snyder Cut. Managing Director at CinemaBlend.
Your Daily Blend of Entertainment News
Thank you for signing up to CinemaBlend. You will receive a verification email shortly.
There was a problem. Please refresh the page and try again.