Scott Eastwood Reveals He Had A Girlfriend Who Died In A Horrific Car Accident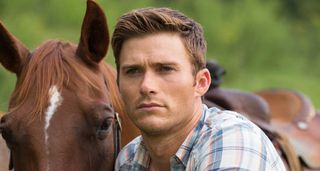 Up-and-coming actor and heartthrob, Scott Eastwood, has just revealed that he had a girlfriend who was killed in a terrible car accident two years ago, an incident that created a wound he's still trying to heal. He gave graphic and disturbing details of the crash to GQ Australia, describing his girlfriend's death as "fu**ed up."
Perhaps the reason Scott has been riding solo, the son of well-known actor Clint Eastwood told GQ Australia that upon hearing the news he broke down. The tragedy of losing her left him heartbroken, and he confessed that it still has a significant effect on his dating life.
While you may not see Scott on match.com (opens in new tab) any time soon, he's not exactly down on his luck when it comes to the ladies. Aside from his appearance in Taylor Swift's "Wildest Dreams" video in 2015 that made him the target of teen adoration, the 30-year-old has been romantically linked to a slew of beautiful women including Nina Dobrev, Jana Kramer, and Brittany Brousseau. He seems to be having the time of his life playing the field and staying single, even though he claims that bartending when he was younger was even better than working as an actor in regards to attracting the ladies! Perhaps he needs a lesson or two from John Mayer on how to woe these Hollywood women.
Scott can be seen in the recently released film Suicide Squad where his role in the film had left DC Comic Book fans puzzled for months. It was originally rumored that Scott would play Wonder Woman's love interest, Steve Trevor, however his character was later revealed by the paparazzi who photographed Scott on set in a military uniform, leaving many fans disappointed. He played Lieutenant GQ Edwards, a character that was not from the original story and is a new addition to the movie.
As a serious actor on set, Scott talked about how disciplines from his parents, especially his father, are the reason behind his success and have rubbed off on him. Calling his father's parenting methods old-school, he recalled a few moments on set for GQ Australia saying:
Well, considering how successful his father's career has been, it surely could be worse!
Your Daily Blend of Entertainment News
Thank you for signing up to CinemaBlend. You will receive a verification email shortly.
There was a problem. Please refresh the page and try again.