The Auction To Punch Martin Shkreli In The Face Just Hit A Setback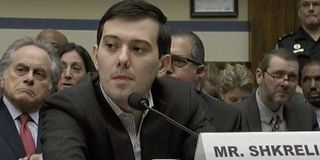 (Image credit: Late Night with Seth Meyers)
Apparently, it'll cost you a pretty penny to live out what most of the world is dying to do: punch that pharma-bro that raised the price of an AIDS treatment drug by over five thousand percent. Martin Shkreli, who's been called "the most hated man in America," is now trying to turn the public's general disdain against him into profit for a charitable cause.
On Tuesday, Martin Shkreli set up an online auction where anyone could donate to win the opportunity to punch him in the face. The same day, he announced that the winner was a woman named Katie from Florida, who reportedly bid $50,000 to "repeatedly pummel [Shkreli] in the face." However, on Thursday afternoon, Shkreli wrote that Katie reneged her offer and that he is now reopening the search for someone to punch him.
Martin Shkreli is attempting to raise the money from this stunt for the family of his former PR consultant Mike Kulich, who died over the weekend. According to the donation page, Kulich's 5-year-old son Tyler had recently recovered from a battle with Leukemia before his father died, and Shkreli has agreed to match the winning donor's monetary donation to help Tyler.
Kulich was the founder of a porn company, and was apparently known for attempting strange, attention-grabbing PR stunts to promote his adult videos, so Shkreli's punch gimmick is somewhat fitting.
The PR stunt also plays on the fact that many people have commented that Martin Shkreli has a "punchable" face since he became a disliked public figure for drastically raising the price of the AIDS drug Daraprim at the end of last year. Seth Meyers referred to Shkreli as a "slappable prick" during a segment on Late Night with Seth Meyers, and ThinkProgress even conducted a scientific study into why Shkreli's face causes people to want to punch it so badly.
So basically, everyone wants to punch Martin Shkreli, but it seems that right now, he'll only let you if you meet that $50,000 bid. The auction is still open if you really, really want that punch.
Your Daily Blend of Entertainment News
Your Daily Blend of Entertainment News
Thank you for signing up to CinemaBlend. You will receive a verification email shortly.
There was a problem. Please refresh the page and try again.