A Woman Gave Birth To A Baby Mid-Flight On The Way To Orlando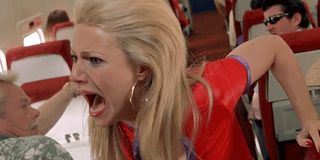 (Image credit: View From the Top)
It's never fun when you're seated by a baby on an airplane, but a recent Southwest Airlines flight took that to the extreme this weekend. An afternoon flight wound up turning into a delivery room for one new mother.
Southwest Flight 556 from Philadelphia to Orlando had to make an unexpected pit stop after one if its passenger's gave birth in the aisles of the plane on Sunday afternoon, USA Today reports. About an hour and a half into the flight, a woman onboard went into labor, and the plane diverted its course to make an emergency landing in Charleston. Thankfully, there was medical personnel on the flight who were able to help the unidentified passenger give birth on the airplane, and the baby was successfully delivered. Upon landing in Charleston, the woman and newborn were met with more medical personnel and taken to a nearby hospital for postnatal treatments and some rest and recovery.
One passenger recorded a brief video of from his seat during the birthing process, in which a baby's cry can be heard coming from the front of the airplane. Check it out below.
Of course, for the rest of the passengers on the plane, the miracle of life isn't so miraculous. However, the on-flight birth wound up only delaying the flight to Orlando about an hour, which isn't too horrible all-in-all.
But what I'm left wondering is why the woman would be on this flight in the first place if she was that close to giving birth. Traveling on airlines while pregnant is normally fine after the mother has passed the morning sickness phase of her first trimester, but doctors obviously advise against women flying while in their third trimester, let alone in the final days of their pregnancies. If the woman was already nearly 40 weeks along in her pregnancy, she probably should have just planned her trip a few months later. Then again, it could have been a surprise premature birth, or the woman could have been making the trip for some important reason that we just don't know.
Whatever the reason behind the birth was, it's a relief that the baby was safely delivered in the middle of those unusual circumstances. Plus, he or she is going to have one of the greatest birthday stories ever, so that's a plus! I'm imagining that his birthday cake is going to be shaped like an airplane for the rest of his life.
Your Daily Blend of Entertainment News
Thank you for signing up to CinemaBlend. You will receive a verification email shortly.
There was a problem. Please refresh the page and try again.