Ryan Lochte Reveals The Sex Of His Baby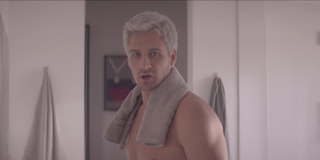 Ryan Lochte is about to be a dad, and now he's letting us know if he's going to be teaching a little boy or a little girl how to swim. The Olympic athlete revealed on Wednesday that he and his fiancé Kayla Rae Reid are expecting a baby boy.
In an interview with CBS News, Ryan Lochte expressed his excitement for welcoming his newborn son into the world later this year. Lochte said he will definitely be the type of parent to spoil his child, and that he can't wait to dress him up in similar outfits as himself. He also wants his son to follow in his dad's wake by teaching him how to swim, although he made it clear he isn't going to force him to compete athletically if he doesn't want to. Lochte went on to say that he was actually hoping for a boy, and now he's hoping that he and fiancé Kayla Rae Reid can have a girl next.
After a particularly tumultuous 2016, Ryan Lochte is focusing on family in the new year. He proposed to model Kayla Rae Reid --- whom he revealed he had been dating since the summer --- this past October, and they are now in the process of planning their wedding, tentatively set for this coming October. The couple finished off 2016 with yet another bombshell in December when they announced that Reid was pregnant with their first baby. Both Lochte and Reid posted pics from an underwater photoshoot in which Lochte was kissing Reid's stomach.
The shift in focus from his career to his family couldn't have come at a better time for Ryan Lochte. The Olympic swimmer faced intense public backlash after he was caught lying about being held at gunpoint by locals while in Rio de Janeiro for the 2016 Olympics. In actuality, Lochte and a couple other members of the U.S. swim team had gotten drunk and defaced a local gas station, and Lochte misremembered the station's owner demanding that he pay for his vandalism as an attempted robbery. Lochte issued a public apology, but wound up losing most of his major sponsorship deals and getting a brief ban from swimming competitions.
But Ryan Lochte can leave that negativity behind him now, and instead focus on his baby boy. I really hope his first word is "Jeah."
Your Daily Blend of Entertainment News
Your Daily Blend of Entertainment News
Thank you for signing up to CinemaBlend. You will receive a verification email shortly.
There was a problem. Please refresh the page and try again.