Josh Gad Surprising His Daughters Might Just Be The Cutest Thing Ever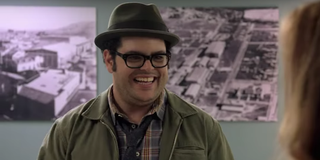 (Image credit: The Comedians)
Turns out, Josh Gad is just as cuddly and lovable as Olaf the snowman in real life. Don't believe me? Just take a look at how adorable is with his two daughters!
Josh Gad gave us all the warm and fuzzy feelings we needed just in time for Valentine's Day after he posted a couple videos on Instagram of himself coming home to surprise his two young daughters Ava and Isabella Gad. First he surprised his eldest daughter, five-year-old Ava, as her mom and Gad's wife Ida Darvish filmed the heart-warming homecoming.
In the clip, Josh Gad picks his little girl up for a huge embrace, and sweetly says, "My little angel! Surprise!"
In the video's caption, Josh Gad wrote the he flew 22 hours on his weekend off just for this brief reunion with his family, which he described as "pure heaven." Gad is currently was likely flying from the United Kingdom, where he recently wrapped filming as Gaston's sycophantic sidekick LeFou in the live action Beauty and the Beast, and is now filming Kenneth Branagh's Agatha Christie adaptation Murder on the Orient Express.
Josh Gad also made a little reference to his famous Frozen character Olaf in the hashtags, writing "warmest hugs on the planet." As anyone who say the icy Disney flick well knows, Olaf is a huge fan of warm hugs. And Gad wasn't out of hugs just yet!
After showing his love to Ava, it was time for Josh Gad to surprise his youngest daughter, 2-year-old Isabella Gad. The surprise must have been extra special for young Isabella, considering her third birthday is coming up this Friday! In a second video, Gad also picks up Isabella as she grins from ear to ear, and they embrace each other tightly as he says, "My angel! My angel! Hi my baby."
In the caption, Josh Gad gushed about what a blessing it is every time he hugs his daughters, saying that he wishes he could never leave their embrace and that the troubles of the world just melt away. Now that is one amazing dad... and an amazing Gad! (Oh come on, I had to do something with the "dad" and "Gad" rhyme).
Your Daily Blend of Entertainment News
Thank you for signing up to CinemaBlend. You will receive a verification email shortly.
There was a problem. Please refresh the page and try again.