This Dude Will Eat A Picture Of Jason Segel Every Day Until Jason Segel Returns The Favor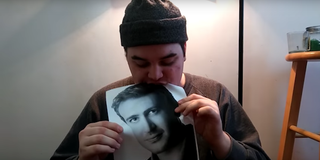 A lot of lucky people have some cool celebrity encounter stories --- maybe they Hugh Jackman came to visit them in the hospital, or Chris Brown screamed in their face --- but one YouTuber is taking matters into his own hands to meet Jason Segel. Well, not really meet... more like have the actor devour an photo of his face. Yeah, you head me right. This guy is begging Segel to print out and eat a photo of him, and to prove his devotion, he has promised to eat a photo of Segel every day until it finally happens. Check out the video for yourself below.
The YouTube user named Dog Shit uploaded his first video in his new #EatMyFaceSegel challenge on Thursday. I think I'll just refer to the YouTuber as DS for the rest of this post. In the first video, DS silently eats a headshot of Jason Segel for a little over four minutes, slowly biting into the paper and tearing off shreds. He is armed with only a bottle of water in this harrowing task. At the end of the clip, he looks at the camera and says, "Hey, Jason."
In the caption for the video, DS includes the photo that he would like Jason Segel to print off and eat in response to his campaign. While Thursday marked day one of this venture, at the time of publishing this article, DS has yet to upload a second photo-eating video for Friday, though he still has plenty of time left in the day to do so.
Unfortunately for DS, Jason Segel is pretty inactive on social media, so it might take a while for the comedic actor to learn about this strange little campaign. Segel's last tweet is from almost exactly a month ago, and was simply a link to a trailer for his upcoming movie The Discovery. Prior to that, other than two tweets in all of 2016, he hasn't posted to the site since 2012. As for Instagram, his latest post is from nearly five years ago. Yikes... Let's hope DS's face-eating campaign doesn't wind up turning into a "Five Year Engagement."
Jason Segel is best known for his comedic leading roles in films like Forgetting Sarah Marshall and I Love You, Man, along with his long-running role as Marshall Eriksen on How I Met Your Mother. Since HIMYM ended in 2014, Segel has slowed down on the quantity of movies he takes on and opted for more dramatic roles, such as that of David Foster Wallace in 2015's The End of the Tour.
Still, we all know Jason Segel still has that wacky, fun energy in him, so maybe we will get to see him eat a a photo of a random dude on camera!
Your Daily Blend of Entertainment News
Your Daily Blend of Entertainment News
Thank you for signing up to CinemaBlend. You will receive a verification email shortly.
There was a problem. Please refresh the page and try again.