How Justin Timberlake And Jessica Biel Make Their Marriage Work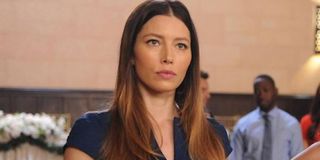 Justin Timberlake sings that his wife, Jessica Biel, is like his "Mirror." Now Biel is opening up about what married life is like when both spouses are major stars. In a recent interview, the 35-year-old actress explained that her marriage to Timberlake hinges on shared principles and sincerity. Furthermore, they keep respect and understanding for each other's career and allow for enough space to be an individual. Biel explained, saying,
Jessica Biel seemed pretty excited to talk about her marriage and its successes when she sat down with Marie Claire. The Hollywood couple married back in 2012. They began dating in 2007 and took a break from their relationship for a short while in 2011 before reuniting later that year and eventually marrying and starting a family together. They both have indicated in the past that the time apart served to deepen their love for each other.
It probably helps that Biel's early start in Tinseltown is similar to Justin Timberlake's. While Biel got her start on 7th Heaven, Timberlake became a household name as the standout member of NSYNC. Therefore, the two have always had plenty of common reference points to help them build a stable relationship.You can tell how strong the love is in the family in the ways they talk about each other. For example, here is a photo Biel posted to Instagram for Timberlake on Father's Day:
Jessica Biel also mentioned that the new show she is working on, The Sinner, is based on a best-selling novel by German author Petra Hammesfahr. The plot is about a young American mother who murders someone but does not remember doing it. The thing Biel has most in common with her new character is motherhood. Now she and Justin Timberlake are mom and dad to Silas Timberlake, who was born in 2015.
It is refreshing to see celebrity couples with such a solid sense of their relationship. Jessica Biel and Justin Timberlake might give Ryan Reynolds and Blake Lively, Channing Tatum and Jenna Dewan-Tatum, John Legend and Chrissy Teigen, and other devoted celebrity couples a run for their money in the cutest couple category.
Your Daily Blend of Entertainment News
Thank you for signing up to CinemaBlend. You will receive a verification email shortly.
There was a problem. Please refresh the page and try again.