Serena Williams Just Shared The First Pic Of Her Baby Daughter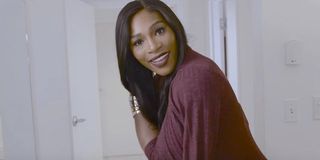 Tennis legend Serena Williams and Reddit co-founder Alexis Ohanian have welcomed their newborn daughter, Alexis Olympia Ohanian, Jr. The engaged couple announced the birth of their firstborn with an adorable mother-and-child picture that gives us all the feels. Take a look:
Serena Williams' 6.5 million followers on Instagram got the early glimpse of Alexis Olympia Ohanian sleeping on her superstar-athlete mom's chest. Additionally, Williams linked out to a video her fiancé had uploaded to Youtube. The video shows Alexis Olympia's journey from an itty-bitty baby barely visible in a sonogram picture to being swaddled in blankets while Williams talks in a hushed voice moments before leaving the hospital. In the video, Williams explains she was in the hospital for a much longer time than she had expected. Williams said there were complications during the birth, but she did not give details. Then she gushed,
The heartwarming video shows Alexis Ohanian and Serena Williams in private moments leading up to the birth. Grab tissues to dab your eyes; it's a (happy) tearjerker. Watch it here:
Back when Serena Williams first revealed her pregnancy, there were rumors that she might have inadvertently uploaded the picture the wrong way, as somebody actively removed the image from her story. (She might have intended only to send it to Alexis Ohanian.)
Toward the beginning of Alexis Ohanian's video, you can see some of the videos Serena Williams seemed to have sent privately to her fiancé. For example, there is the hilarious one in which Williams calls Australian Open trophy her baby and captions the video "No one knows I'm 8 weeks pregnant!" (Upon learning of Williams' pregnancy, the Internet went bananas, realizing she had been pregnant when she competed in and won the Australian Open for the seventh time.)
Of course, once the cat was out of the bag, Serena Williams opened up about being pregnant, and she proceeded to take a collection of incredible maternity photos, such as this gorgeous picture that we still can't stop staring at even though the baby is here:
It is touching Serena Williams and Alexis Ohanian got to share those early weeks in the know without anyone being the wiser. It was fun to watch the couple throughout the pregnancy, and now it will be a joy to see them shine as new parents.
Your Daily Blend of Entertainment News
Your Daily Blend of Entertainment News
Thank you for signing up to CinemaBlend. You will receive a verification email shortly.
There was a problem. Please refresh the page and try again.