Beloved Musician Tom Petty Is Dead At 66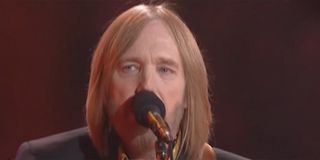 Tom Petty, beloved singer and the head of Tom Petty and the Heartbreakers, has passed away. The singer was found unconscious in his home on Sunday night in Malibu, California. He was taken to the UCLA Santa Monica Hospital, where he was reportedly put on life support. A lot was hazy surrounding the singer's death, as for a while on Monday outlets were reporting the singer had died. It turns out that he hung on for a while on Monday, but his longtime band manager has now confirmed in a statement that Tom Petty died at 8:40 p.m. on Monday. The singer was 66.
According to band manager Tom Dimitriades:
Reports broke during the early afternoon on Monday that Tom Petty had been hospitalized, and they were quickly followed by reports that he died, which in turn were followed by reports he was still hanging on. TMZ originally broke the news, noting the EMTs who responded to the call found Tom Petty unconscious. He also wasn't breathing, but they were able to find a pulse, so they rushed the legendary singer to the hospital, where we now know he passed away, surrounded by those nearest and dearest to him.
Tom Petty had just wrapped up a lengthy 40th Anniversary tour that stopped all over the United States. It concluded at the Hollywood Bowl in Los Angeles last Monday. Prior to the tour, Petty was already talking about slowing down and reducing the percentage of time he spent on the road, as he was entering the back half of his sixties. He said at the time that this tour would likely be the last big one for Tom Petty and the Heartbreakers, noting to Rolling Stone that he and the gang wanted to keep playing for fans, just not as many dates in such a short period of time.
Tom Petty was a mainstay name in popular culture for decades. The Heartbreakers' first album hit shelves back in 1976, a short while after his first band, Mudcrutch, failed to catch on. What followed were a string of gold and platinum albums, both of the band and solo variety, through 2006's Highway Companion (and excluding 2002's The Last DJ, and recent endeavors Mojo and Hypnotic Eye). A stint in The Traveling Wilburys also marks a memorable point in Tom Petty's career, as do hit songs like "American Girl," "Mary Jane's Last Dance," "Wildflowers," "Don't Come Around Here No More," "Free Fallin," "The Waiting," "I Won't Back Down," "You Don't Know How It Feels" and more, the list goes on and on. In 2008, Tom Petty & The Heartbreakers played the Super Bowl Halftime Show. More recently, a full, deluxe reprint of the 1994 album Wildflowers was going to be the next thing in the cards for Tom Petty.
Petty's Traveling Wilburys bandmate Bob Dylan spoke to Rolling Stone following the singer's passing, noting,
When a major celebrity dies, there are varying degrees of feeling the average person may have about that celebrity's death. Of course, most people know who Tom Petty is and probably even know a song or two. But it's always the major fans who are hit the deepest by what is really, in a lot of ways, a total stranger's death. For me, there's been no celebrity I've stuck with longer than Tom Petty. My mother had the full moon fever when it came to the musician well before I was born, and I knew the lyrics to "Breakdown" before I turned two (although I clearly didn't grasp their meaning). I could sing Tom Petty before I could swim. And one of the highlights of my life was when the band pulled out "Straight Into Darkness" during a stop in Indianapolis, noting it was the first time they had played the song in years. But to get to the point, Tom Petty knew that people come and people go. All we can do is turn the radio loud, head on down the road, and hope for another day to do it all again. Rest in peace, Tom Petty. You'll be missed, by your friends, your family and, of course, the legion of fans who never met you.
Amazing Race & Top Chef superfan with a pinch of Disney fairy dust thrown in. If you've created a rom-com I've probably watched it.
Your Daily Blend of Entertainment News
Thank you for signing up to CinemaBlend. You will receive a verification email shortly.
There was a problem. Please refresh the page and try again.