Anne Of Green Gables Star Jonathan Crombie Dies at 48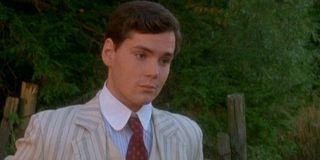 Jonathan Crombie known for his starring role in the 80s PBS TV-movie series Anne of Green Gables died earlier this week at age 48. The Canadian actor suffered from a brain hemorrhage in New York City on Wednesday, April 15.
Crombie's sister, Carrie opened up to the Canadian Broadcasting Company (CBC) earlier today confirming her brother's death and sharing kind memories of the late actor. She told CBC that he truly loved acting and especially appreciated the fans that came out of his time as Gilbert Blythe on Anne of Green Gables. She said
Carrie Crombie also added that her brother happily answered to the name Gil when fans recognized him on the streets. Jonathan Crombie will be most remembered for his role as Gilbert Blythe in the 1984 movie as well as its two sequels in 1987 and 2000. He stole the hearts of many women in Generation X as PBS' cute school boy rival turned boyfriend turned eventual husband in the beloved classics.
Kevin Sullivan, the Anne of Green Gables producer told CBC that while many actors had auditioned for Crombie's role, none captured the spirit of the character like he did.
Sullivan was utterly shocked at the actor's passing calling it a 'devastating tragedy'. Crombie's sister added that her brother was committed to staying healthy and didn't think he had any major health issues. So, it seems as though Jonathan Crombie's passing was completely unexpected.
It's a terrible tragedy to lose a beloved actor still young, but Carrie Crombie promised a "huge, wonderful celebration of life" will be held in the actor's honor some time in the near future.
Your Daily Blend of Entertainment News