Apparently NFL Cheerleaders Don't Make Much Money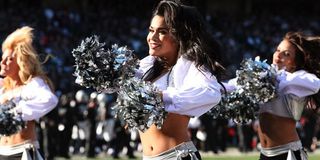 Boozed-up football fans spend about 35 percent of their time watching the game. The other 65 percent is directed toward the cheerleaders. If you've been to an NFL match before, you have no doubt seen a grimy old man breathing heavily while ogling the leotard-clad ladies. I know, it's gross. But you know what's worse? The women are apparently not getting paid that much to entertain them.
According to a story in the San Mercury News, a group of current and former Oakland Raiders cheerleaders have filed suit against the team, claiming that the organization engaged in "wage theft and other unfair employment practices." Specifically, the Raiderettes were contracted a year salary of $1,250, which means they made a measly $5 an hour. They also got fined for wearing the wrong pom poms to games, the wrong workout clothes to rehearsal, not bringing a yoga mat to practice, and not turning in written biographies on time (wait, seriously?). The Raiders declined to comment on the suit.
Oakland's football team isn't the only one to pay their cheerleaders dirt wages. Per the Atlantic, the San Diego Chargers cheerleaders get $75 per home game, along with two game tickets and a parking pass. The Baltimore Ravens cheerleaders get $100 a game, which includes having to show up five hours before kickoff and a twice a week practice from April to June. While the Atlantic points out that these women are paid for additional promotional appearances, those base wages are still embarrassingly low considering the amount of money each team is making.
According to the plaintiff in the Raiders suit, she loves being a cheerleader, "But someone has to stand up for all of the women of the NFL who work so hard for the fans and the teams." Damn straight.
Your Daily Blend of Entertainment News