At Auction, Munch's The Scream Goes For Nearly 120 Million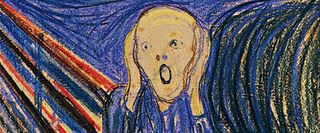 In the late 1800s, Norwegian artist and painter Edvard Munch created four versions of "The Scream," a masterwork that has maintained its status in the cultural realm for over 100 years. The image of the androgynous figure standing on a bridge over troubled waters is so famous, it has been stolen twice and bookies were taking bets on whether or not it would be stolen when one of the four versions went to auction this week.
As it turns out, the painting exchanged hands safely during an auction at Sotheby's in New York. The item in question was actually the last version of "The Scream" to be in privately held hands. The other copies preside in museums around the world. Because it is so well-known and such an important piece of art, the bidding was expected to go pretty high; however, I'm unsure anyone believed the bidding would go as high as it did. According to The Washington Post, the painting sold for $119.9 million dollars.
The painting was eventually won by a dude over the phone who was a client of one of Sotheby's employees, and, in the world's cutest move, the seller, Petter Olsen, is going to donate all of the money from the auction to build a museum in Munch's hometown. I'm not sure I would give away a nearly priceless piece of art to be able to build a museum, but I also cannot find a better cause for selling the piece, especially since Munch's hometown is also Olsen's hometown. Undeniably cute.
Your Daily Blend of Entertainment News
Thank you for signing up to CinemaBlend. You will receive a verification email shortly.
There was a problem. Please refresh the page and try again.