Brooklyn Decker Hates Playing Tennis With Andy Roddick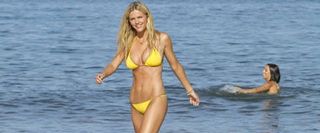 To keep those abs firm for some all important bikini photos, model Brooklyn Decker has become a workout fiend, dropping and doing planks on a whim and also indulging in everything from pilates to kayaking to dancing. In the past, the 25 year-old even worked out the morning of a friend's wedding. This motivation to keep in shape does wonders for her marriage to tennis juggernaut Andy Roddick, who also maintains peak fitness. Just don't ask her to play tennis with her hubby of three years.
Despite her lack of expertise in the ball and racket sport, Decker did give the sport a go with her husband—unfortunately, it just did not end particularly well. The actress and model recently spoke with Women's Health for the magazine's May issue and recounted the story of the fateful tennis attempt.
Despite the tennis flaw, Decker does enjoy being active with her husband. Even when they can't work out together, the star of the upcoming flick Battleship understands what it takes to keep herself motivated, even in the face of tiredness.
By keeping her workouts fun, Decker has managed to maintain an enviable figure. I'm sure she will keep it that way…as long as she is not pushed into any racket sports.
Your Daily Blend of Entertainment News