Clint Eastwood Would Destroy Donald Trump In Presidential Race, According To Survey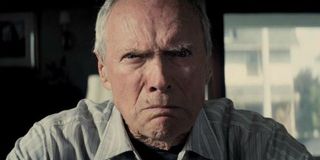 The 2016 presidential race has begun, and with it, already an aired debate and some interesting coverage by the media. No matter which side of the spectrum you lie on when it comes to politics, there are always surprises and upsets when it comes to poll results. Currently on the Republican side of the race, business mogul Donald Trump sits high atop the polls. But in a recent survey that pinned well-known celebrities against real presidential candidates, one pairing would hypothetically blow Trump's chances out of the water. Who you ask could leave him in the dust? Well, none other than Oscar-winning director Clint Eastwood.
Actor and filmmaker Clint Eastwood has always been quite vocal about his political beliefs whether it be in his films or just in the public space. He is a registered Republican and has previously commented on the strength of his political views and has even made successful runs in local and state government. Eastwood took center stage for a bizarre speech at the 2012 Republican National Convention which led to a mixed response from attendees and fans. But Eastwood's iconic name has set him as one of the top candidates in a hypothetical electoral race conducted by Harris Poll (via Huffington Post). So much so that he received a 72 percent vote of confidence over only a 28 percent backing of Donald Trump. No matter how far-fetched this contest is, considering Trump's current lead in the actual polls, that is quite the contrast.
Eastwood wasn't the only celebrity to beat out presidential candidates in this make-believe race. George Clooney beat out Jeb Bush by 14 percent, Ben Affleck beat out Ted Cruz by 18 percent and Jimmy Fallon would beat Rand Paul by 10 percent. The democrats fared a bit better, beating out their celebrity counterparts, but not by much. Hillary Clinton beat out Oprah Winfrey by 10 percent and Bernie Sanders beats Jerry Seinfeld by 9 percent. Another survey conducted a few weeks later found that nearly 6 in 10 Americans think a celebrity would make a good president, and the top three celebrity candidates were Morgan Freeman, Clint Eastwood and Jon Stewart.
It's highly doubtful any of these celebrities have plans to run for office any time soon. Though we may see Jon Stewart moderate a debate for this year's election and Clint Eastwood often comes out with a statement about his presidential nomination during a race. So we can expect these celebs to be vocal, but sorry America, looks like you're stuck with politicians for now.
Your Daily Blend of Entertainment News
Your Daily Blend of Entertainment News
Thank you for signing up to CinemaBlend. You will receive a verification email shortly.
There was a problem. Please refresh the page and try again.