Daredevil Tightrope Walker Nik Wallenda Describes His Experience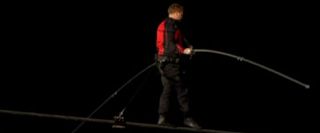 When Nick Wallenda made the hop, skip, and jump across the 1,800 foot-long span that is the Niagara Falls, he only had a 2-inch cable as his guide as he braved the misty weather and the extreme height. Over 112,000 people were watching the event live, and over 10 million viewed the event from their homes, watching via Megastunts: Highwire Over Niagara Falls. Despite ABC's stipulation the man use a small cord to latch him to the larger rope, if Wallenda had taken one small step in the wrong direction, he most certainly would have embarrassed himself in front of a good chunk of North America.
Despite the fog, the view was breathtaking, and Wallenda spent every moment he had in the air working to reach a goal he had aspired to since childhood.
Likely akin to nothing most of us have ever attempted. The 33-year-old may have accomplished one of his greatest dreams, but in the process, he has also become a role model for young people who are also willing to go the extra mile to achieve their dreams. After Wallenda finished the first tightrope walk across the Niagara Falls on Friday, he told The Associated Press he hopes his actions will prove to be motivating to others.
So, kids, if you are practiced and really want to push a skill set to the limits, if you dare to dream and dream to dare, you may one day get the opportunity to practice your fine skill set in a live and dangerous event. Just remember: you are not too good to take the help of a sponsor. Because the $1.3 million the event cost would probably not have occurred without the help of ABC.
Your Daily Blend of Entertainment News
Thank you for signing up to CinemaBlend. You will receive a verification email shortly.
There was a problem. Please refresh the page and try again.