Emile Hirsch Is Going To Jail After Pleading Guilty To Assault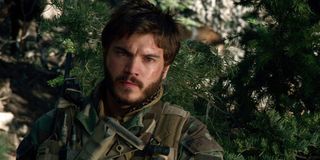 Earlier this year, Into the Wild star Emile Hirsch was the cause of a heated altercation. While attending Sundance Film Festival for his film Ten Thousand Saints, Hirsch went out to Tao Nightclub and apparently lost control, leading to an altercation with Paramount studio executive Daniele Bernfeld. Hirsch put the woman in a chokehold and was eventually charged for misdemeanor assault. The actor pleaded guilty today under a deal with prosecutors, and was sentenced to 15 days in jail along with a $4,750 fine and 50 hours of community service.
According to The Associated Press, the incident went even further than the chokehold too. On the night of the incident Bernfeld told police that Hirsch put her in a chokehold from behind and dragged her across a table, followed by slamming her to the floor. Reports state that Hirsch was slurring words and struggling to balance. Bernfeld told the police that the actor had three or four drinks. But Hirsch said he could not remember what had happened. He acknowledged "mouthing off" with Bernfeld and defending himself when she came at him, but even today when he pleaded guilty, he reiterated that he couldn't remember what happened that night.
Hirsch is said to have been sober since the incident and has taken responsibility, expressing remorse on multiple occasions. Prosecutors knew that Hirsch was drinking that night as well as taking medication. They acknowledge Hirsch's claim of not being able to remember the incident, especially considering the alcohol and medication combination could have made him less coherent. But Bernfeld is unhappy with the plea deal, saying that the punishment should be tougher. In public records she described the altercation as "insanely painful and absolutely terrifying" and that it took two people to pull him off of her. But Hirsch's attorneys claim that the actor entered rehab within days of the incident, which probably helped lighten his sentence.
Either way, it's not a situation either party wants to be in. The studio executive clearly seems pretty shaken up about the whole thing, and unhappy with the final decision by the court. And for Hirsch, work on his upcoming film The Runaround with Kristen Schaal and J.K. Simmons just began principal photography last month. This sentence, though short, may cause a delay in filming.
Your Daily Blend of Entertainment News
Thank you for signing up to CinemaBlend. You will receive a verification email shortly.
There was a problem. Please refresh the page and try again.