Fiona Apple Apologizes For Arrest, Says She's Sorry Her Work Is Being Overshadowed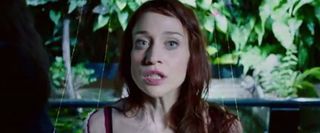 Last night, veteran singer Fiona Apple was performing onstage at The House of Blues in New Orleans when a torrent of emotion seemed to wash over her. It's no surprise the woman would be awash with emotion; in the past week she had to deal with being caught with hash and pot, going to jail over the offense, and then dealing with the media afterwards. Last night, Apple apologized to fans, and tried to explain she isn't crazy.
In video footage obtained by TMZ, the singer began an overly apologetic rant that sort of morphed into a "fuck you" to anyone who thinks she is crazy. The first thing Apple spoke to the audience about was how upset she was that the work she and everyone involved with her recent album, The Idler Wheel…, had put in has sort of been thrown under the bus in order for outlets to talk about her arrest.
Fiona Apple's newest endeavor actually came out all the way back in June, so I'm pretty sure outlets were kind of over chatting about the album, but I think she means she wishes press could just talk about her music and not her personal life. After this, however, her rant became angrier and more pointed. The other night, the singer said onstage that she was keeping a "lock box" of mistreatment about the police officers that arrested her on drug charges. At the House of Blues, however, she retracted her statement.
It's a little weird to see the singer behaving so erratically and with a pretty primal-seeming attitude. If you want to see some of the other weird shit colliding around Apple's brain, you should check out this music video.
Your Daily Blend of Entertainment News