Former My So-Called Life Star Just Became British Royalty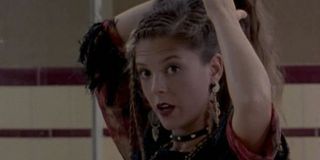 Life has moved in a unsuspected direction for wildchild Rayanne Graff from My So-Called Life. The actress who portrays the popular TV character has drifted far and wide from the portrayal of her most notable performance and has just recently become British royalty. When Ohio-born actress, A.J. Langer married the son of the 18th Earl of Devon, she was held the title of "Lady Courtenay", but now, following the death of her father-in-law earlier this week, the actress has joined the British royals assuming the title of "Countess of Devon".
Allison Joy Langer, who also held memorable roles in Baywatch and Private Practice married the-then Charles Courtenay in 2005, relocating to the UK with their two children only last year. According to The Telegraph, upon the late Earl of Devon's death, Langer and her husband have now inherited the royal titles along with the family's 4,000-acre estate near Exeter, Powderham Castle.
With their new titles, obviously comes high esteem, but not without cost. Maintaining an estate at that capacity is a pricey endeavor, and the Powderham Castle has been struggling in the previous years after Lord Devon refused a marriage request in 2008. The Devon County Council investigated and revoked the license for hosting civil ceremonies, causing the family to lose a substantial amount of revenue each year. Luckily for AJ Langer and her family, the license was just reinstated, as the now instated Earl and Duchess will move into the estate, and work to help fund the castle.
Langer has previously noted that the royal title will not affect her day-to-day life in any way, though. A few years ago she told the parenting blog Breezy Mama that all the title really was to her was an interesting story:
Langer has been on and off with her acting career, taking a six year hiatus, and reappearing for a recurring role in Private Practice in 2011 before her character was killed off. Other than that, she had a minor role in Kristin's Christmas Past which premiered on Lifetime but has for the most part been raising awareness and money for fibromyalgia research.
Your Daily Blend of Entertainment News
Your Daily Blend of Entertainment News
Thank you for signing up to CinemaBlend. You will receive a verification email shortly.
There was a problem. Please refresh the page and try again.