Former Tiffany & Co Executive Accused Of Stealing 165 Pieces Of Jewelry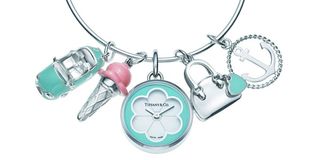 Have you ever looked inside the window of a Tiffany & Co and thought, "I wish I could just have something?" Well, if federal prosecutors in Manhattan are to be believed, Ingrid Lederhaas-Okun did, and she didn't keep her urge as a mere fantasy.
According to The Wall Street Journal, authorities descended on the home of Lederhaas-Okun this week and arrested her for wire fraud and interstate transportation of stolen property. Until February of this year, she worked for Tiffany & Co as a vice president, but back in November, she allegedly began checking out pieces of jewelry and never returning them. In all, she allegedly took out one hundred and sixty five pieces in the three months before her position was downsized in a move completely unrelated to the alleged thefts. When her replacement started looking into where the jewelry may have gone, that's when the sheer quantity was discovered and an investigation was launched.
Lederhaas-Okun hasn't spoken publically about what happened, but authorities are alleging she forwarded on at least some of the items to an international jewelry reseller and lined her own pockets to the tune of $1.3 million. If so, that was an incredibly successful and lucrative scheme, but unfortunately, it could potentially cost the former executive two decades or so in prison if she's convicted of the supposed crimes.
Stealing from work is never a good idea, even for higher ups. They may be able to cover up their deeds with paperwork for a long time because of a lack of oversight and an overabundance of power, but whenever they leave the company and they will leave the company at some point, any competent replacement is going to discover something is wrong pretty quickly. Besides, it's such a slippery slope. Had only one item of jewelry been missing, it's likely this mess could have been explained away pretty quickly, but once a person gets away with something without the slightest bit of repercussions, the natural instinct of many is to continue pushing the envelope.
Lederhaas-Okun is currently free on $250,000 bail. Moving forward, she will need to appear in court again sooner rather than later in order to enter an official plea and get a trial date set in stone. If she really is guilty of this alleged crime, I hope she does herself a favor and works out a plea agreement. If she's innocent, however, I hope she fights tooth and nail, provided she never stoops to this level.
We will keep you updated as this case heads to trial. Until then, I'm crossing my fingers Lederhaas-Okun's testimony will go something like this…
Enthusiastic about Clue, case-of-the-week mysteries, the NBA and cookies at Disney World. Less enthusiastic about the pricing structure of cable, loud noises and Tuesdays.
Your Daily Blend of Entertainment News
Thank you for signing up to CinemaBlend. You will receive a verification email shortly.
There was a problem. Please refresh the page and try again.