George R. R. Martin Releases New Winds of Winter Chapter And It's Awesome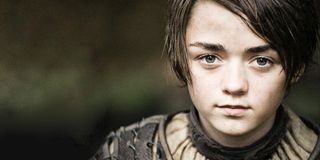 This week, George R. R. Martin got busy promoting his popular fantasy work, releasing an excellent chapter from his upcoming Winds of Winter book via his blog. An additional segment was also made available for A Song of Ice and Fire series fans via the official Song of Ice and Fire/ Game of Thrones app. The big promotional push by the author was unabashedly made to stir up a little interest in HBO's popular series based on the novels, which is set to hit the schedule on April 6 at 9 p.m. ET.
The blog chapter, told from the perspective of a young woman named "Mercy," is an excellent POV chapter, written by Martin quite a while ago. The author noted in a separate blog entry that he wrote the original years ago, before ripping it up and reworking it nearly a dozen times. Eventually, it became the "Mercy" chapter released this week. An excerpt is available, below.
That little quote doesn't do much, but it does hint at a world where Braavosi and Westerosi citizens are colliding. If you don't have time to read the whole chapter, we'll go ahead and get into some major spoilers below, so if you aren't looking to be spoiled, it's time to scamper off right now.
Mercy isn't just a regular mummer. As the clip above cleverly hints, she's a person created in Braavos, a young girl who does what she is told and tries not to get noticed. She's also Arya Stark, a trained assassin with the skill sets to take down a much larger man. In the chapter, Mercy is preparing for a staged rape scene where she gets to say her very first lines. Arya is planning to take down a Westerosi guard from her past named Raff. Raff is cruel and caused Arya pain when he was part of Ser Gregor Clegane's group of men-at-arms. He's been on her death list since then, and in this chapter, he happens to pop up in the wrong theater at the wrong time, where Arya uses her cunning and guile to take him down. It's a cleverly written chapter, and it hints, through its conversation, at a lot of other things going on in Martin's world.
More importantly, it's a chapter that most fans haven't seen, with Martin noting he doesn't even believe he has ever read the title at a con.
The sample writing may have been put out into the universe by Martin to promote Season 4 of Game of Thrones, but HBO's drama is still a bit behind the events that will go down in Winds of Winter. Still, it's enough to tide readers over for a few more months of interminable waiting. Hopefully, the next thing to come from Martin will be a Winds of Winter release date. A girl can dream, right?
Amazing Race & Top Chef superfan with a pinch of Disney fairy dust thrown in. If you've created a rom-com I've probably watched it.