Girl Stuffed In Chicken Coop And Made To Wear Shock Collar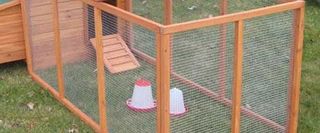 Life is a series of difficult progressions and easy regressions. If you look at American life as a whole big puzzle with lots of pieces to fit together, you find some progressions—like Frank Ocean becoming the first rap artist to come out as gay or teen girls crusading for diversity in fashion magazines—but in order to finish the puzzle you still need the type of pieces where parents lock their kids in gross locations with shock collars on as a form of punishment.
Locking a child up while wearing a shock collar would seem like a random example, if it weren't for Samuel and Diane Franklin from Georgia, who are being accused of child cruelty on multiple occasions. The couple's 15-year-old adopted daughter told authorities she has been shocked over and over since her adoption in 2007 for failing to accomplish tasks such as finishing school work. The shock collar thing is one of the most inhumane behaviors I have ever encountered, and, unfortunately, the Franklin's did not stop at the collar.
They also stuck the girl in a small chicken coop spanning a few inches high and four feet long when they believed she was misbehaving. I don't know how tall this kid is, but that would be a cramped space for any child, and likely smelly, as well. Just when you think society is progressing past nonsense like Edward Kemper getting locked in the basement as a child and later going on a murderous spree, we find a nice, shiny new puzzle piece to add to the board. According to CBS News, police are still investigating the case and the girl has been removed from her home, but either way it seems like the response she has always deserved has come later than it should have.
Your Daily Blend of Entertainment News
Your Daily Blend of Entertainment News
Thank you for signing up to CinemaBlend. You will receive a verification email shortly.
There was a problem. Please refresh the page and try again.