Jeremy Sisto And Wife Addie Lane Name New Son Bastian Kick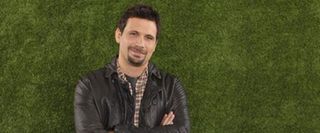 Jeremy Sisto's wife recently hopped over to the hospital and had the couple's second child. Prior to the birth, both Sisto and his wife were having trouble coming up with what to call their baby boy. It seems now they have left all the name troubles behind, coming up with the unlikely choice of Bastian Kick Sisto.
Well, we knew it was coming. Ever since Jeremy Sisto went on The Talk to discuss how uncomfortable he was about naming his children after living people who already own those names, we should have just assumed Sisto and his wife, Addie Lane, would likely get up to something weird with their firstborn son's name. Anytime the dictionary is pulled out to look for potential titles, you are just asking for trouble. I'm actually a little surprised the couple did not go with "Lamprophony."
Bastian Kick should get along quite well with the couple's two year-old daughter, Charlie-Ballerina, however. She gets the hyphen, he gets a startlingly aggressive verb for a middle name. Seems like a fair trade off to me. Sisto released the new baby's name early today though a surprisingly poignant Tweet.
Off-putting name or no, Sisto and his wife seem stoked about their little guy and Pop Blend couldn't be happier for them. Here's to hoping the couple are not looking at too many long nights with little sleep in the future.
Your Daily Blend of Entertainment News