Jessica Alba Responds To The Huge Law Suit Against Her Honest Company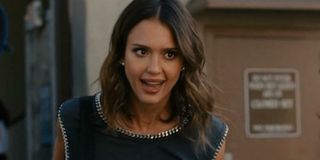 Jessica Alba's The Honest Company has been taking some serious heat recently. Just last month, a line of sunscreen produced by the company was trending for all the wrong reasons, as many customers began posting photos of the products ineffectiveness. Now, The Honest Company is taking the spotlight for once again, being dishonest. Legal action is being taken in this particular instance though, as one consumer just went against Honest with a $5 million class-action lawsuit. And what does Jessica Alba have to say about all this? Well, the actress claims the allegations are 'baseless and without merit'.
Consumer Jonathan D. Rubin filed the lawsuit against Alba's company just last week, alleging that Honest's claim for selling "natural" products is deceptive, and most contain synthetic additives. The lawsuit also was sure to include the ineffectiveness of the company's sunscreen. Alba has finally spoken out on the matter. In a statement (via The Hollywood Reporter) from herself and her company she explains why she created Honest and what it stands for. She goes on to reiterate the importance of these safe and effective products for her children and for families everywhere. And also in the statement she is sure to point out that the allegations are false.
A number of times in the statement, Alba reiterates that her company is open and honest about what they are using in the products (hence the name). She even goes on to state that they label each and every ingredient, though they don't have to, but to do the right thing. That being said, if there are products claiming to be natural, that clearly list synthetic materials, yes the company is being 'honest' in listing everything, but calling it 'natural' is not.
The suit could be a breaking point for Alba's company, who is becoming too familiar with public scrutiny. It also couldn't come at a worse time for the actress, who was gearing up for the launch of the company's all-new 83-piece beauty line. Though the FDA doesn't regulate the use of the term "natural" much of the company's popularity and success in sales has been because of that label, particularly in the baby product department. The reality of what that natural means to Jessica Alba and The Honest Company, may not match up with their customers.
Your Daily Blend of Entertainment News
Your Daily Blend of Entertainment News
Thank you for signing up to CinemaBlend. You will receive a verification email shortly.
There was a problem. Please refresh the page and try again.